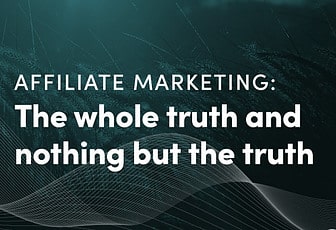 The Internet is awash with massive information on affiliate marketing and affiliate programs. Unfortunately, a huge chunk of this information includes undertones, rumors, myths, fictions and outright misinformation. Wealthy Affiliate is an affiliate program that has literrally taken matters into its own hands and created the undiluted true story of affiliate marketing.
Wealthy Affiliate will tell you in black and white that you cant achieve anything from zero effort. Affiliate marketing is a business like any other. Vision, hard work, planning, strategy and execution are the pillars of success.
The notion of earning passive income (they say earn as you sleep), makes it appear lucrative particularly for beginners. As a result it has become a haven for scammers and fraudsters. Wealthy Affiliate is 100% legit. How do i know?
How to Identify Affiliate Program Scams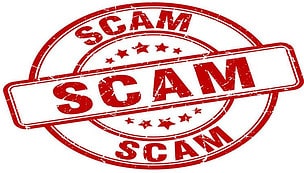 Affiliate marketing per se is a legitimate professional business. However, wherever theres money, there are cheats and crooks. The big question then is; how will you know if an affiliate program is legit? How can you tell Wealthy Affiliate Program is not a scam, for example?
As an affiliate, its important to always look out for the following signs of affiliate programs scams;
Get-Rich-Quick Schemes – promise of earning unreasonable commissions without commensurative efforts. You will be promised big money for practically doing nothing, very little effort or unreasonable time investment. Newbie affilites are the easiest targets.
Pay-to-Join Programs – Most affiliate programs are free to join. If you are required to pay, think twice. Remember payment means providing your credit card information which can as well be compromised.
Fake Products – This involves promotion of products that doesn't exist. To rake in potential victims well-known and established brands are used to gain potential customers' trust.
Spoof Traffic – Spoofing is impersonating in an attempt to gain a victim's confidence, get access to a system, steal data, or spread malware. This technique is common with Pay-Per-Click (PPC) affiliate programs where fake links, junk, bots are made to look genuine. The resulting clicks earn credit to the scammers.
Cookie Stuffing (cookie dropping) – your link send a visitor to amazon website for example, but another affiliate (scammer) earn commission as a result of your referral.  What scammers do is to place multiple cookies on a vistor's computer using a single link. Essentially this is commission theft.

No Company History: Scammers dont provide correct information. An affiliate program worth its name must have details on its history; owners, location, years of operations and much more. Research the company's history on the Internet. Read reviews, customers' testiomnials so that you can learn their track records.
Remember: Much more is required to guarantee you success as an affiliate than just establishing that an affiliate program is legit. Affiliate programs have different conditions that have direct impact on your success.  Learn how to chose an affiliate program for success.
Lets now interrogate Wealthy Affiliate as an affiliate program.
Wealthy Affiliate Reputation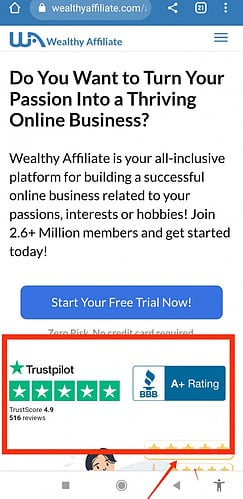 Wealthy Affiliate is a leading and respected affiliate program that has been in existence for the last 17 years. Formed as an initiative to help affiliates succeed  online, it has immensely succeeded in creating over 1.5m internet enterprenuers. Its very unlikely to operate for 17 years without being smoked out as a scam!
Independent reviewers have consistently rated Wealthy Affiliate highly. For example, Trustpilot, a consumer business review company, has rated Wealthy Affiliate 4.9 (highest 5) for overall satisfaction. It has received A+ rating from BBB for operating in good faith and resolving filed customer concerns.
You will receive the follwoing critical services on joining Wealthy Affiliate Program;
No fees to join (starter membership)
Free worlrd class education on affiliate marketing
Choosing a profitable niche
Design of customizable website and over 3000 design themes
Webhost services
Expert coaching and training
Keyword research and SEO
Networking platform with over 1.3m affiliate marketers
What this means for an affiliate, particularly newbies is that Wealthy Affiliate will give you all necessary skills to succeed in online space without any initial committment. The paltform will give you resources and hand-hold you until you can operate on you own. Once you starting earning, your commission is protected  againist commission theft and will be paid promptly.
The proof is in the pudding. If you want to know why Wealthy Affiliate claims to be the most trusted and respected affiliate marketing platform in the world, experience it out for yourself. Theres is Zero risk and zero obligation with the free Starter membership.
Wealthy Affiliate (WA) Affiliate Commissions
WA claims to have never missed out on a single affiliate payment.  The founders and owners being affiliates themselves, they understand affiliates, and thus their entire business is based on catering for affiliates. As a result, you are provided with resources to maximize your marketing reach, your conversions, and your overal affiliate revenue.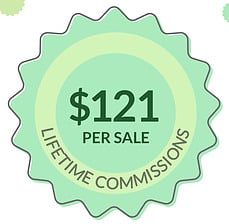 Each and every sale you make leads to over $121 (average) in residual commissions. You earn commissions for the first month that your referral join and will continue recurring commissions for the life of that referral.
Even as a starter member you can send people to WA world-class Starter membership at WA for FREE. If any of those referrals upgrade to Premium or Premium Plus you start earning commission.
The average of Free to Paid upgrade conversions at WA ranges from 12% overall, which presents affiliates with an opportunity to convert at much higher rates.
Below is the commision structure for referrals to Premium, Premium Plus and Starter membership;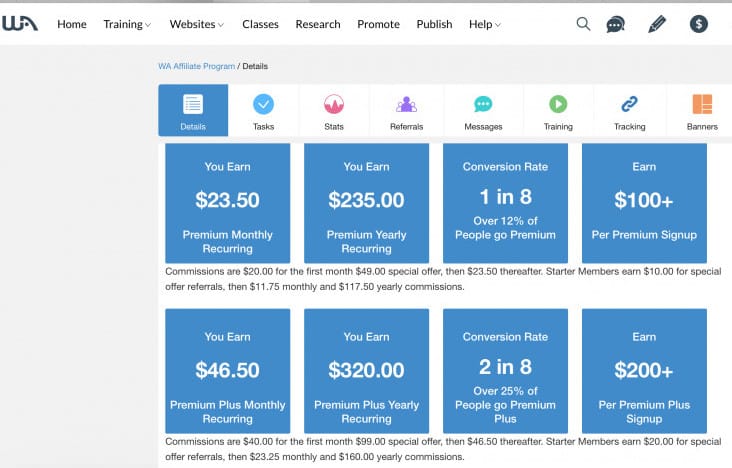 The beauty of WA affiliate program is that you can track your commissions, payment schedules and even referrals. There is also a PPC conversion tracking covering Bing, Facebook and Google Adwords.
Wealthy Affiliate Education, Training & Coaching
If there is an aspect that Wealthy Affiliate is comphrehensive, it is the training. It is particularly designed for complete beginners from zero to expert standards. View the detailed content of the WA course.
The WA community consists of peers and experts to guarantee your queries and concerns are attended promptly. Wealthy Affiliate breaks down the idea that affiliates are in competition with one another and entrench helping one another for much greater mutual success.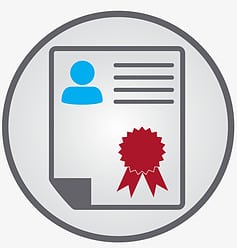 Leading affiliate marketers hangout at Wealthy Affiliate to provide expert coaching for all affiliates with a personal touch. Key areas covered in the training and coaching include;
Website design, setup and hosting
Search Engine Optimization (on-page and off-page SEO)
Content Assembly
Keyword Research
Ranking and Competition
Social Media Engagement
Links Building
Wealthy Affiliate Keyword Research Tool: Jaaxy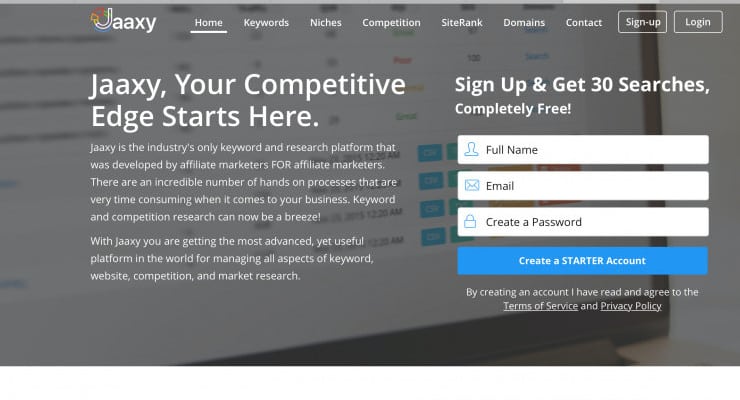 The role of keyword research in affiliate marketing cannot be gainsaid. It is one of the pillars of content assembly as it enables marketers align their content with the search intent of the target audience. Jaaxy is a premium keyword research tool by Wealthy Affiliate.
Jaaxy covers all the necessary aspects of keyword research and much more. In a nutshell you benefit from Jaaxy through;
Keywords – Unearth unique and competitive keyords to drive  your SEO and PPC campaigns to new heights. You have a tool that offers accurate traffic, competition, and domain insights into millions of keywords.
Niches Discovery – Having access to the Brainstorm, Affiliate Search and Alphabet Soup platforms within Jaaxy are going to give you true insights into low comptetition new niches.
Competition Edge –  In affiliate marketing, you need to be ahead of competition. Jaaxy enables you 'probe and spy' better-ranking websites in your niche. You will get insightful data into competitors website's content structure, meta tags, content quality, backlinks, ad placements and much more, giving you an edge over them.
SiteRank – PageRank is touted as a ranking factor (direct or otherwise), thus an SEO Key Performance Indicator. Jaaxy's SiteRank feature allow you to monitor and track rankings in search engines for any website! SiteRank notifies upon achieving ranking metrics in Google, Yahoo or Bing.
Engaging Domain Names – The domain search feature within Jaaxy you will discover quality domains that easily attracts visitors in your niche.
When you join Jaaxy, you automatically become a member of the lucrative Jaxxy Affiliate program.
Wealthy Affiliate Webhost Services

A good webhost is an indirect ranking factor as it determines several aspects of your website such as speed, security among others. Wealthy Affiliate webhosting services is one of the best managed WordPress hosting.
High Site Speed – Slow hosts can megatively affect site rankings. SiteRubix hosting platform at Wealthy Affiliate is a guarantee that your WordPress site will always be hosted on the latest and most powerful servers in the world through Amazon hosting.
Availability – Wealthy Affiliate offers all its clients double hosting ensuring full redundancy for all round availability.
Tight Security & Backups – Several layers of security that shield your websites and keep them secure 24/7. Daily snapshots of your website to ensure recovery incase of accidental data loss.
Content Assembly Platform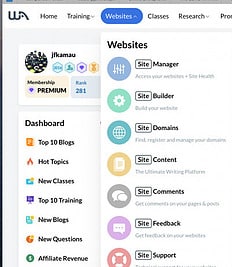 Content is the king in affiliate marketing. Relevant, accurate, original and well structured content guarantees you visibility by the search engines and your target audience. Wealthy Affiliate has developed SiteContent platform to assist you in writing content that will not only generates traffic but also boosts leads, earns links and gets shared on social media platforms.
For better ranking, your content should be structured in a logical way. This is not only good for search engines but it also makes it friendly to the readers and improve dwell time. The SiteContent platform provides templates that guides you to appropriately organize your content.
In addition, you have SiteComments and SiteFeedback platforms that grants you an opportunity to engage with your audience. You receive comments on your content for continous improvement as well as provide feedback for mutual benefits.
Learn How to Write Content that Ranks in Google.
Wealthy Affiliate Pricing
Wealthy Affiliate is priced into three bands namely Starter, Premium and Premium Plus. Each of this band is tailored for different levels of affiliates. For instance, the Starter is best suited for beginners and thus the focus is on training and setup. You get a free website, free hosting, free Jaaxy platform and beinner training package.
Wealth Affiliate Training & Certification, Webhost Services, Jaaxy Keyword Research and Support are the parameters that defines the pricing categorization.
For example, the Jaaxy platform for each band is shown below: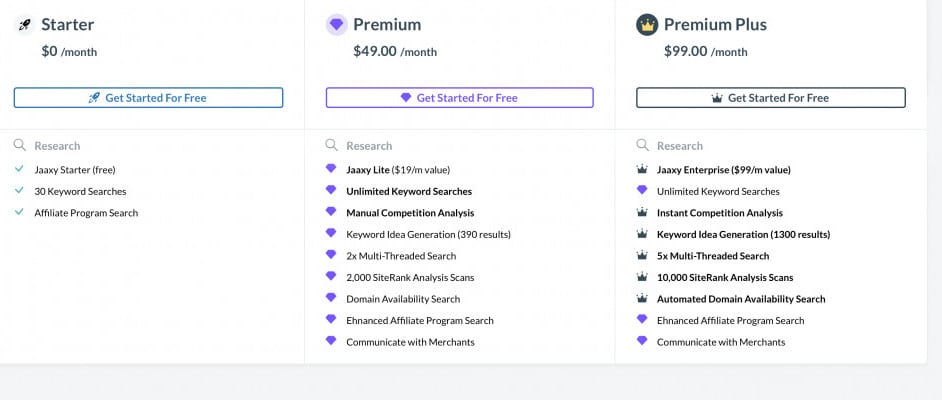 Verdict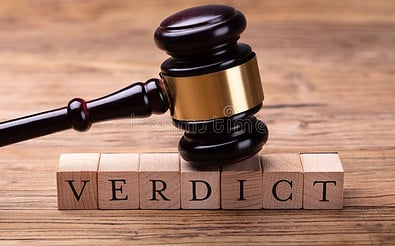 There's no denying that affiliate marketing is a great way to earn income online.  If you join a shady program, you not only risks loosing money but also damaging your credibility as an affiliate marketer. I have been a premium member of Wealthy Affiliate since 2016. So when i highly recomend the program, i am doing from a point of knowledge.
I am not in a position to authenticate some of their claims. For example the claim that  27,195,900 Hacking Attempts Blocked in Past Year would have better been made by an independent security authority/audit. The same on the claim of being the Best Managed WordPress Hosting. There's also the claim below on being the top affiliate marketing of the year since 2005.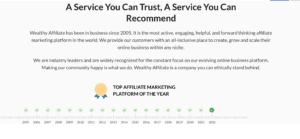 I consider that to be a case  of blowing own trumphet. Very little focus has been put on the topic of link building. I find this to be a gap in their training content.
At Wealthy Affiliate you get essential clarity in every aspect within an otherwise foggy and often confusing online space. It has the best training and mentorship platform for building a successful business online particularly for beginners. The WA affiliate program is also very generous to your pocket. 

Join Wealthy Affiliate Today and enjoy this exciting platform for all levels of affiliates by affiliates.
Jeff
Safari Affiliate