Your website is one of the pillars of a successful online business. It is the online face of your business. It must therefore be appealing, professional, load fast, easy to navigate so that your target audience can fall in love with it. A website lives on a webhost, which make web hosting an integral part of your online store.
Creating a new website from scratch can sometimes be an intimidating task particularly for the non-tech savvy. Woe unto you if you are trying to gain a foothold in the Internet space on budget. Thanks to website builders, anyone can create a website without prior training in coding.
There lies the place of WordPress in the ecosystem. A website builder, web host and much more.
What is WordPress?
I am sure you have come across one of these phrases: the simplest way to build a website, create a website in minutes with WordPress. Powered by WordPress, best managed WordPress and many more.
WordPress is a content management system (CMS) that allows you to host and build websites. Being an open-source, anyone can use, modify and maintain for free. WordPress is designed around plugins and templates architecture which allows developers, bloggers, ecommerce stores and other content creators to adapt their websites as they wish.
As a result of its ease of use and flexibility, WordPress has become very popular with both beginners and experience techies. In particular, it has a very solid grounding in blogs as it started as a blogging platform. It's no wonder that WordPress powers over 43.3% of all the websites on the Internet.
I have mentioned that WordPress is hinged on plugins and themes. Plugins expand functionality of your website. If not implemented properly, it can harm your website. This is the reason why there's some sort of ranking as different providers deploy these services differently.
Choosing Your WordPress Hosting Provider
The role of a web host in online business cannot be gainsaid. It's a must have as well as done correctly from the word go. Choosing a wrong web host can turn costly to your online business.
Fortunately, there are tons of information on factors to consider when choosing a Web Host. In a nutshell, you should consider the following factors when choosing a WordPress hosting provider;
Performance – reliable servers to ensure fast response time, uptime, and network speed.
Security – automatic backups and restoration, firewall protection, and SSL certificates.
Scalability – capacity to handle space, traffic fluctuations and other changes in the future.
Support – responsive and helpful customer support in form of phone support, email support and live chat.
Pricing – fair and transparent pricing plans that meet your needs and offer value for money.
Additional Features – may include extra features to enhance security or performance such CDN, Staging environment, etc.
There are roughly 4 different types of WordPress hosting services available;
Shared WordPress Hosting
VPS WordPress Hosting
Dedicated WordPress Hosting
Managed WordPress Hosting
Shared WordPress Hosting
The hosting provider allocates multiple websites resides on one physical web server. Each website is allocated a specified space sharing the server resources (processor, memory etc.). As a result of this arrangement, the hosting provider is able to spread the overall costs among the websites to the benefit of the owners.
Shared hosting is thus popular with newbie bloggers due to its affordability. You should however realize that each website is allocated certain amount of resources with a threshold. If your website require more resources than allocated, consider scaling up. Many hosting providers market shared hosting with the phrase unlimited resources which deceit.
Cloud hosting, a variant of shred hosting, involves multiple physical servers in the cloud pooled together and presented to the website or application as one server. Added benefits of cloud hosting over traditional shared hosting include improved reliability and redundancy, higher performance, and on-demand scalability. These extra benefits obviously come at a cost.
Many WordPress host providers often do not indicate which version of shared hosting they are giving you.
WordPress VPS Hosting
A Virtual Private Server (VPS) is a virtual server built within a physical server through partitioning. A single physical server therefore is home to multiple distinct servers. A VPS WordPress hosting involves allocating each website a virtual server based on the individual website requirements. As a website owner, you are position to assess the resources needed by your website and scale appropriately.
As a blogger, you have some level of control on the server such as installing upgrades and custom apps. Of course, you pay for these enhanced provisions. Due to these aspects, VPS hosting is best suited for experienced bloggers and developers with knowledge to utilize these resources.
WordPress Dedicated Server Hosting
Dedicated server is a physical server that you can lease from the hosting provider. As a website owner, you have full control on the server such as choice of operating system, applications and hardware.
This type of hosting is best suited for a mature blog with substantial traffic and income. You will also be required to engage full-time administers of the site for support, server monitoring and software updates.
Managed WordPress Hosting
With managed WordPress hosting, the hosting provider avail a dedicated server for you and perform all the website maintenance services. As the website owner, you are only required to sign service contract, pay for the service and everything will be done for you. Performance, security, updates, backups etc. will be done on your behalf.
Its obvious such a hosting service is best suited for enterprise websites to justify the expense.
I have deliberately left out free WordPress hosting with reasons. Many providers of free hosting often have hidden costs which are detrimental to the website owner. Such costs may be in the form of forced ads/links, no resource guarantee, poor performance and reputational damage.
I would not recommend free WordPress hosting to any blogger intending to make money online.
3 Best WordPress Hosting Provider for Beginners
With so many WordPress hosting providers in the market, it may seems an ernomous task to arrive at the best provider. This is so because all of them claim to fit the billing above. We have evaluated a nuber of these providers based on the immidiate needs of a beginner blogger, inter alia, getting a domain name, hosting the website and smooth running of the website. …… and arrive at the following list;
Bluehost
SiteGround
DreamHost
Lets delve into each of these hosts
Bluehost WordPress Hosting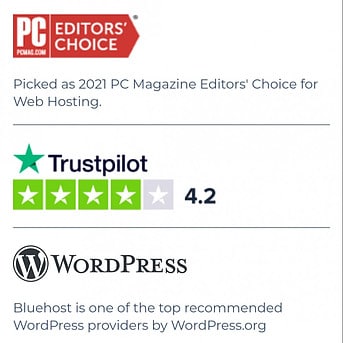 Theres a reason why WordPress.org officially recomends Bluehost as one of the WordPress host provider of choice. In addition, Trustpilot,  an open consumer business site with over 100m reviews, has rated Bluehost with a score of 4.2 (Great!).  PCMag, a leading authority in technology reviews picked Bluehost as its Editors' choice for year 2021.
Bluehost offers a wide range of plans and features to accommodate specific needs and budgets. This includes shared hosting, VPS hosting, and dedicated hosting.
A key selling point for Bluehost is the friendly user interface which makes it easier for beginners. The one-click installation of WordPress in particular is very appealing in setting a new website fst and easily.
In the first year of sign-up, you are assured of a free domain name for the first year, unmetered bandwidth, and unlimited storage.
As your website matures, Bluehost will offer a range of add-ons and upgrades, such as a cloudfare integration (a content delivery network – CDN) and performance caching to speed up your website. If you ever plan to setup an online, then you are adequately covered by the Bluehost Online Store Platform.
In terms of customer service and support, Bluehost is a home to a comprehensive knowledge base and a community forum providing answers to users' questions and concerns at peer level. You are aslo assured of offers 24/7 customer support via phone, email, and live chat where individual issues are resolved.
Bluehost WordPress Hosting Plans
The following Bluehost pricing should be of close interest to beginners;

Basic: The basic plan allows you to host one blog or website. You are eligible for one domain with 10GB SSD storage, custome WP themes, free CDN and free SSL certificates for one year. You will initially pay $2.95 per month for the first year. To renew this plan, you'll will be required to pay $10.99 per month.
Plus: The Plus planis best suited for multpile websites as it offers unlimited number with 20GB SSD storage space. In addition to the features in the basic plan, you'll also get Malware scanning feature. The price for the first year starts is  $5.45 per month and $14.99 on renewal per month.
Choice Plus: The Choice Plus plan includes all features in the Plus plan with 40GB SSD storage. You will also get free domain privacy, and automated daily backups. The price for the first term is $5.45 per month and $19.99 per month on renewal.
The following are the take-homes for you as a beginner when evaluating theBlueshost hosting offering;
Competitive and affordable prices
Free domain name
Free CDN + SSL
Great customer support
Officially recommendation from WordPress
1-click WordPress install
Money-back Guarantee
They power millions of websites with high availability.
NB: The indicated starter pricing maybe promotional which changes from time to time. Always refer to the Bluehost Current Pricing. Its also important that you take particular note of the high renewal charges for the plans after the first year.
                                   Start Your Journey of Making Money Online with Bluehost and Earn 73% Discount!!
---
DreamHost WordPress Hosting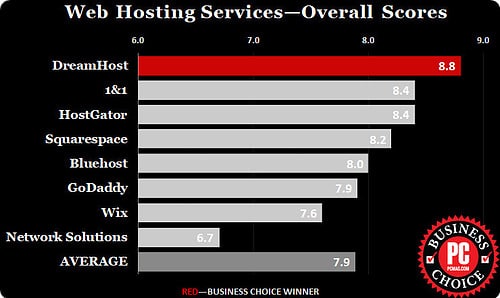 DreamHost offers shared hosting, VPS hosting and dedicated hosting among others. The company has been around for many years and has also been officially recomended by WordPress.org as WordPress hosting provider. The PC Magazine has also rated Dreamhost as No.1 hosting service provider for three years in a row. Trustpilot has rated Dreamhost 4.7 (excellent).
The main reason behind this high rating is strong committment to customer service, adherence to privacy provisions and outstanding uptime.Now wonder that Dreamhost is home to 1.5m WordPress blogs and websites.
DreamHost WordPress Hosting Pricing and Plans
DreamHost WordPress hosting offers the follwoing plans:
WordPress
DreamPress
VPS WordPress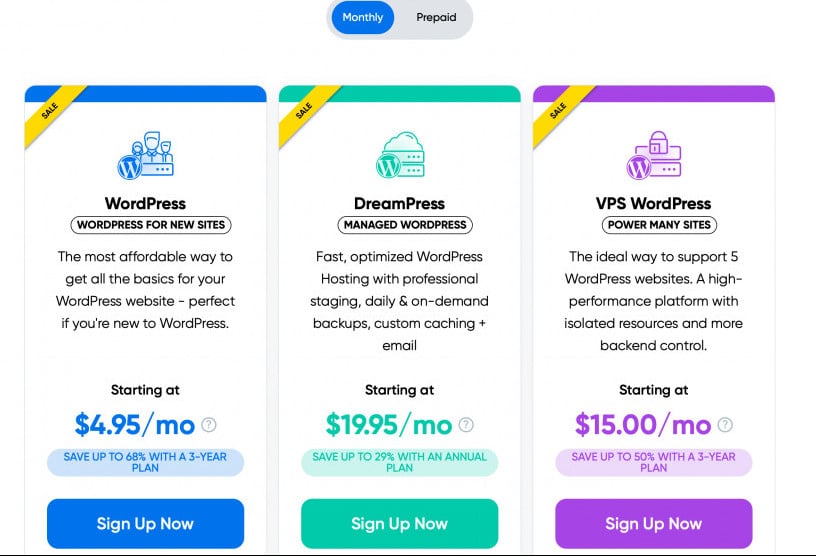 As a beginner, you are given enough time and reasons to to make a decision of signing up or searching elsewhere. DreamHost will offfer you a 97-day money-back guarantee, one of the industry best. You are guaranteed 100% uptime and spmetimes reimbursements in breach. The plans offer the following services;
#1. Unlimited storage and bandwidth
#2. High-performance SSDs that make your websites fast
#3. Unlimited domain hosting and unlimited email accounts.
#4. Free SSL ceritificates
#5. Automatic WordPress updates
#6. 1-click WordPress installation
The user-friendly, custom-crafted control panel enables you as a beginner easy access to all the tools required to start and grow their sites: 1-click installers of top content management systems. You also have access to 24/7 customer support vis phone, csllbsck, emails, socisl media nd live chat as well as comphrehensive  knowledgebase and user forums to address your areas of challenges.features such as automatic backups, WordPress updates, and a user-friendly control panel.
---
SiteGround WordPress Hosting
SiteGround has also been recomended officially by WordPress.org. They offer shared hosting, cloud hosting, and dedicated hosting. SiteGround lay special emphasis to performance and speed of the websites they hosts. The use of custom server configurations such as MariaDB, and NGINX, help in optimizing the performance of WordPress websites.  A caching system known as  SuperCacher is used to speed up websites by caching static files and reducing server load.
SiteGround allows you to choose which data center you want to host your website: Asia-Pacific, United Kingdom, United States, Europe and Australia. This can benefit your target audience in terms of website performance. For example, if majority of your target audience are based in UK, you can choose to host your website in the London data center. The default is the US server.
SiteGround offers a variety of tools to help protect your website from hacking and other cyber vulnerabilities. This includes automatic backups, a built-in firewall and a free SSL certificate. The HackAlert feature monitors your website for suspicious activities while sending you alerts.
You will also access to a friendly user interface and easy-to-use control panel for ease of managing your website. You also dont have to be an expert to install and configure the WordPress as SiteGround provide a one-click installation.
In terms of customer support, SiteGround offers 24/7 customer support via phone, email, and live chat. They also have a comprehensive knowledge base and a community forum for reference and engagement with users.
SiteGround WordPress Hosting Pricing & Hosting Plan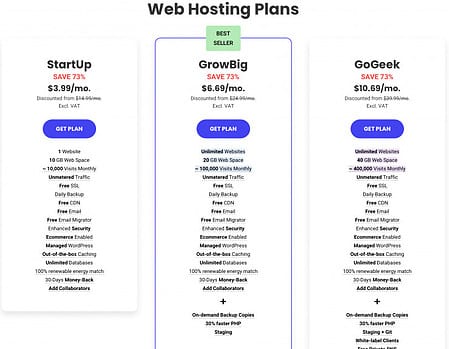 StartUp – At a cost of $3.99 per month, you get 1 website, unlimited traffic, 10K visits monthly, free CDN & SSL, free emil migrator, unlimited database, 10 GB of storage, out-of-box caching and 30-day money back guarantee. The renewal rate is $14.99 per month.
GrowBig – For $6.69 per month, you have to all services under Startup, 20GB space, unlimited websites, 100k visits monthly and on-demand backup. The renewal rate is $29.99 per month.
GoGeek – For $10.69, you have all the services under GrowBig, unlimited traffic, 40GB space, SuperChacher and priority support. Renewal rate for GoGeek costs $44.99 per month.
NB: The pricing indicated above are the regular price. However there are promotional offers for new customers. Always refer to the current rates for renewal for the various categories on offer.
Overall, SiteGround is a great choice for anyone looking for a hosting provider that offers a focus on performance, security, and ease of use. They are a reliable and features-rich
However, in addition to the seemigly high renewal rates, SiteGround lacks dedicated, VPS and Windows server options in their offering. The allocated storage is also comparatively low.
Siteound also offers another hosting options known as Reseller hosting. You buy at least an annual worth of hosting which you later sell others for monthly subscription.This can be an extra revenue channels partiucalrly to those with design and development skills.
For reseller hosting, you must be familiar of how hosting works (technically) so as to deploy and support those you sell it to. You become the middleman between the hosting provider and the actual user of the hosting service.
SiteGround has three reseller plans:
GrowBig: $4.99/month
GoGeek: $7.99/month
Cloud: from $90/month
Conclusion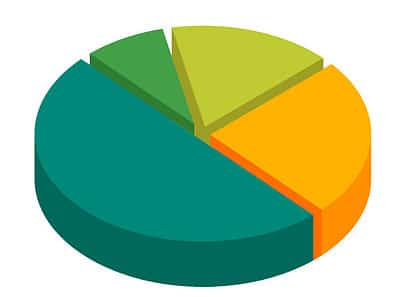 Today, close to 850 million websites are currently built on WordPress, making it one of the topmost platform. Being an open-source and free, it allows developers and enthuasists to contribute unique themes, widgets and plug-in modules to customize websites that provide powerful tools to manage websites. As a beginner you cannot ignore such an opportunity.
Beginners are short on resources, budget and foresight. From onset, the three WordPress hosting providers introduce you with general knowledge on web hosting. With flexible plans and pricing, you are in position to settle on the one that align with your status at the time. You are then assured of room for growth, allowing you to scale as you gain footing. Shared hosting for example, iis the natural choice for beginners. It is uneconomical to sign up for dedicated hosting when you have not attracted enough traffic for your blog.
WordPress Hosting avail to you the hardware, firmware, and software configuration for your website to run smoothly and  efficiently. You are assured of a maintenance free environment where your blogs' compatiblility, performance and security  issues are well taken care. Bluehost, Dremhost and Siteground fits the bill.
Jeff
Safari Affiliate