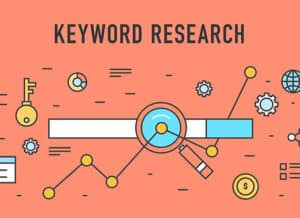 A keyword research tool helps you find words, phrases, topical ideas that people are searching for on search engines. This in turn assist you to tailor your content around these ideas so that your customers can find what they search for.
You then use it to learn the potential audience to tap into, so that your content (with well-chosen keywords) can be on the first page of search engine results pages (SERPs).
It is not far-fetched therefore to say that keyword research tools are part pillar of the digital marketing. If you do not have the right keywords within your web pages, you end burying your content deep in the massive ocean of data existing online.
Dont leave your visitors looking for a needle in a haystack, literally. If you do,  there are alternatives all over. They will  be instantly directed to other sites with more relevant content.
What benefits do you draw from keyword research tools?
Engage audience more – with the knowledge of what your audience is looking for, you can write or create content around that. They will surely like and engage with your content when they conduct a search.
Better conversion – With your prospects finding the content interesting they will want to learn more. Enhanced viewership, downloads etc. You will in turn realise that they stay longer on these webpages and perhaps visit other pages in your website. Google Analytics is a good place to check these statistics.
Marketing trends insight – Keywords analysis offers insights into current trends and your visitors' behavior. You in turn use this to make your content relevant and evergreen.
Enhanced rankings – Keyword research tools not only help to identify keywords but also where to place them within the content (title, URL, anchor text etc). This will have a huge effect on your organic search ranking.You are able to prioritize in your content assembly line.
7 Most Important Keyword Research Tool Metrics
So what metrics do you use to evaluate a keyword merit?
When looking for keywords to use in your content/web pages, there are several factors to consider before settling for a particular keyword. While different keyword research tools use different metrics, the following metrics are generally found in majority of them;
Competition (keyword difficulty) – The lower the difficulty, the easier it is to rank for.
Search volume – In general, the more searches a keyword gets each month, the better. (Because it means you can get more traffic)
CPC (cost per click) – This is the best way to know how much search intent (commercial value) a keyword has. Advertisers use this to determine value to pay.
Search Intent (relevance to your business) – Are your potential customers likely to search for this keyword?
Trend in search volume – Target keywords that are growing fast in a particular period.
Word Count – Although there's no rule of thumb to follow in terms of the word limit for SEO, higher has been found to be better.
The batter for high traffic, low competition keywords is fierce, heralding many industry players tools to win the battle. Tools leading the market includes Semrush, Ahrefs, Moz, KWFinder, QuestionDB, Jaaxy among many more. Google, the dominant player in search engines has its own Google Keyword Tool which all other players cant ignore due to the pivotal position Google occupies in the chain.
There are also many other industry players such as affiliate programs, developers, affiliate marketers who have come up with thousands similar tools. An example is Wealthy Affiliate, an affiliate program player whose keyword research tool delivers friendly, accurate and real time data to help in ready keywords.
Jaaxy Keyword Research Tool is a keyword research tool which has been developed by affiliate marketers for affilitate marketers. This  makes it one of the most prolific industry keyword research tool.  With many useful features and tools, the platform can help you reduce keyword research efforts considerably.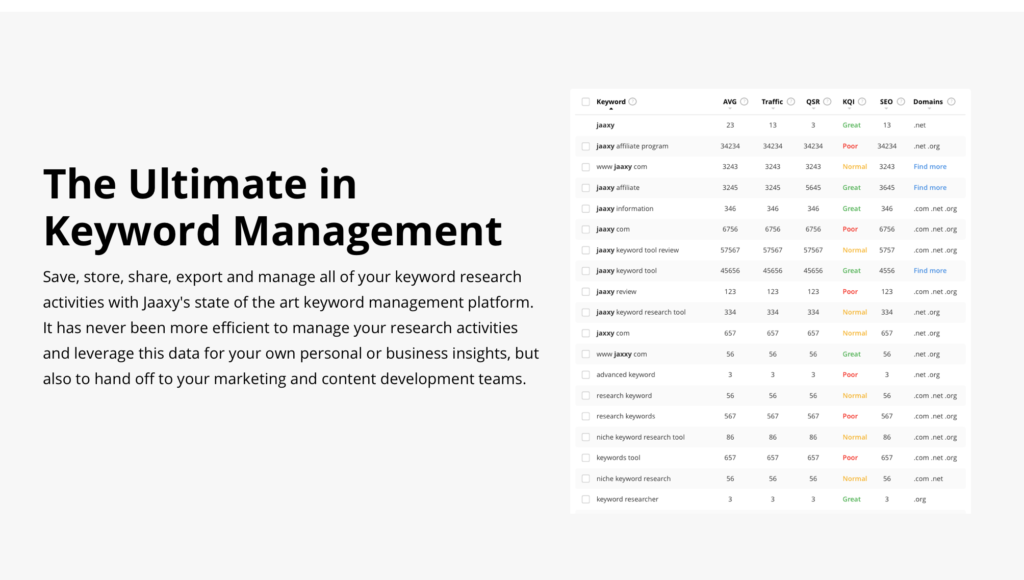 Get thousands of related keyword ideas within seconds by this straightforward (yet powerful) tool.
Jaaxy Keyword Metrics
So, what makes Jaaxy unique?
Jaaxy uses the Google Instant and Google Autocomplete to predict the search terms enabling you get data on actual searches that people perform on Google. The idea is to equip you with more ideas on long-tail keywords. While many keyword research tools soley target Google search engine, Jaaxy also covers Bing and Yahoo making it a single tool that covers all the dominant search engines.
With Jaaxy you will assist you achieve the following;
Keyword research (get low competition and competitive keywords for instant rankings)
Monitor site ranking
Identify new niche opportunities (Brainstorming new niche and keyword ideas)
Discover your competitors' strategies
Build new domain portfolios
Discovering lucrative affiliate programs for your niche
Discovering untaped high-traffic niches
Predicting expected traffic for a particular keyword and its rank
Building to-do lists for your projects
Saving your keyword lists
Apply Google's Instant Alphabet Soup technique automatically
Lets analyse the metrics avaialble on Jaaxy upon keyword search;
Keyword:  This is the search phrase that the data to the right of it is representing.
Avg.:  This is the overall monthly traffic this search term gets. This number represents the traffic in Google, Bing, and Yahoo combined.
Traffic: This is the estimated amount of traffic you will get if you rank on the first page of Google search results.
QSR:  Known as Quoted Search Results, this is the exact number of results in Google that you are competing with under this search phrase. In other words, it tells you how many other sites are employing the same keywords into their content. This is a particularly useful feature when targeting keywords. The lower the competition, the better for your website. Jaaxy recommends that you choose keywords with an QSR below 400.
KQI (Keyword Quality Indicator): Keyword Quality Indicator indicates how Jaaxy's algorithm classifies the quality of the keyphrase. It is color-coded, with red, yellow, and green – with green suggesting that the keyword is a great choice.
SEO: This is a result of what Jaaxy thinks is best for SEO, the likelyhood of ranking high with this specific keyword. The higher the number, the better is the keyword.
Domains: Jaaxy lets you search for domain names that match your keyword. It will also show you whether those domains are available to purchase or not. In addition, Jaaxy is a partner of Wealthy Affiliate Affiliate Program, an accredited domain registrar, which makes it much easier to purchase domains on the spot and seamlessly.
Related: The related metric is a listing of all keywords closely associated with your search phrases, giving you access to more keyword ideas. You can brainstorm for more keywords based on your content here, too. Additionally, since you also get to see the ranking of the keywords, you have an opportunity to preview into competition which gives you a competitive adge.
Brainstorm: This feature will avail to you the keywords that are trending for a particular niche. You will not only have access to keywords dominating for a particular niche at that moment but also an idea of the most popular keywords in other social media platforms such as Twitter and Amazon.
Saved Lists & Search History: These two separate dashboards enables you to access keyword research old data. As you carry out your keyword research you can select particular keywords to save in any of your created 'saved lists'.
Site Rank: Site Rank helps you review your website and ranking. In Site Rank, you can input any keyword and URL and then carry out a search to determine how that particular website ranks. Jaaxy will conducts a search and display the results as shown in the example below for Wealthy Affiliate website;
Finding Niches with Jaaxy
To assist you access other affiliate programs, Jaaxy runs a search through four platforms namely Linkshare, Digital River, Commission Junction, and Click Bank. All you need to do is select the affiliate program where you intend to conduct your search term then relax to receive the details about the program as shown in the example below;

Jaaxy Pricing
Jaaxy has three bouquets, differentiated by their search capabilities. While many programs will avail a trial version for starters, the Jaaxy Starter option is a full product but with limited number of searches you can conduct.

Jaaxy Affiliate Program
You can earn commission by referring others to Jaaxy.  The commission you earn is based on the Jaaxy package you have referred and is quite competitive. Note that you not only earn instantly for any referall but also yearly for the same referall.

Verdict: Jaaxy Review
To benefit fully from any keyword research tool depnds on a number of factors that include the industanding of the affiliate programs industry, the role and position of keywords in SEO, knowledge to utlize keyword of research tools, type of business among other factors. Jaaxy is not an exception.
Whether you a beginner trying to get a footing in the business or an experienced affiliate marketer out to venture into new territories, Jaaxy offers accurate metrics just for that. The detailed features expounded above, ease of use and understanding of the industry through years of research andexperience is enough to confirm the claim of the owners; Jaaxy is one of the most powerful keyword research tool. 
The beauty of Jaaxy is that you can initially sign up with the Jaaxy Starter Plan, a complete product at no cost and decide for yourself whether it is worth your time. Why dont you give it a try today?
Jeff
Safari Affiliate