So, you've made a decision to join an affiliate program but you have no skills to build a website? Worry now more.
The good news or you in 2022 is that the process of building a website is now within your reach even without any coding skills or the requirement to hire a developer.
Why do you need own Domain and Website?
If you were to get into real estate business, a domain and website can be compared to the breaking of the grounds and laying of the foundation stone. A must-do step and a major determinant of the success of the entire project. Having your own .com, .org, or .net domain carries some real benefits that include;
An asset you own – When you purchase a domain, you own it. Nobody else can come take it from you. You are also in full control of every aspect of your domain.
Domains increase in value –  As you build out your website and your domain, it will increase in value just like any real estate asset.
They Rank Better –  Having your own domain will lead to better rankings in Google, Bing & Yahoo which own 99% of all searches online. This is a big deal.
The Process of Building A Website from Scratch for Affiliate Business
Before you embark on the journey to build a website, you need to have your ground work right. The purpose of the website must be very clear to you. What is it you want to achieve with the website? Drop-shipping, inventory  or digital services?
The answer to this question is very important to the process as wit will help you determine critical aspects of your website. For example, it will guide the choice of theme, pages, content type and even technical aspects.
Affiliate business has four key stages;

It is clear that a website is one of the foundation of affiliate business. You cannot attract visitors (aka customers) without a website and subsequently no revenue. Think of a website as a storefront in a big mall.
I know discuss the set-by-step process of coming up with a website;
1. Register a domain name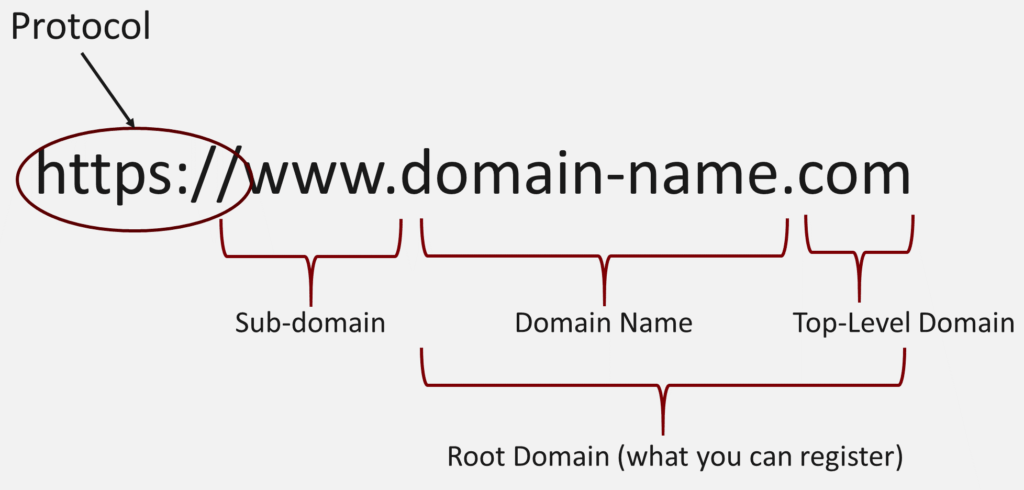 Domain name is a unique name in the internet space that also defines the name of your website, emails and host of other online identity. The name should therefore have a description of the products and services you offer online.
To register a domain name, you must use the services of an accredited registrar who will assist in the process. The structure of the domain name as as shown in the diagram above.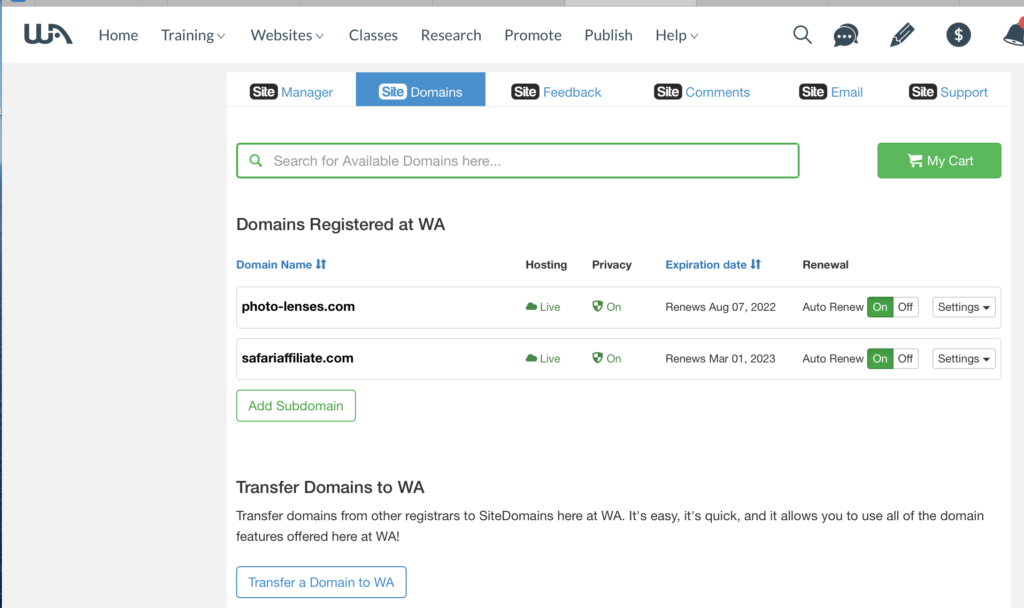 Wealthy Affiliate(WA), for example offers domain registrar services and much more as we shall find out later in this post.  but also assist you in getting domain names suitable for your niche. Using this domain facility, you are able to;
Check domain availability
Register the domain
Transfer a domain to WA from another host
Manage all your sites
Offer and receive feedback on your websites
2. Choose a Web Host
This is the service provider with servers that host your website files as well as the associated technologies/ services required for the website to be accessed on the Internet. The web host is responsible for the availability, speed of access, security and support services of your website. Its credibility is key to your success.
Factors to consider when choosing a Web Host for Affiliate Business
Webhost confident of their services often offer their potential customers a window to test their services. I would take this as a first assurance of a serious and high-quality web hosting company.
The testing period is important stage of choosing a webhost. You will not only be able to test all the services and tools you require for your website but as well as encounter others which you were not aware of their existence. This window will also provide you a chance to ask questions and assess the performance of your website before you sign with them.
During this initial testing period, you can explore and test the following aspects of your website;
Availability
Storage Space
Loading speed
Security
Website Update
Customer support
Cost
Monthly Bandwidth
Many web host have a trial period for a limited period. At Wealthy Affiliate, you can join as Starter Member with privileges to build and host your own FREE website.
Availability
Web host worth its salt must guarantee the highest possible uptime for the websites under its custody. A website is of no use if inaccessible.  In addition to frustrating your customers, search engines such as Google will award less value in organic search for sites which are not consistently available.
If your website misses out on search engines, you are obviously disadvantaged from the onset, before even factoring in competition. Although it may be practically impossible to have a 100% availability, the rule-of-the-thumb is to have a website that is as microscopically close to 100% availability as possible.
Storage Space
Many a web hosts have different bouquets  based on disk space allocated for web files storage. Always chose the one that not only meet your immediate space needs but also offers scalability for growth. Due to developments in the hard disk technology, storage has become cheap over time which has enabled many web hosts to offer unlimited storage disk space.
Loading speed
One of the factors that Google will use in ranking web pages is the speed of loading with those that load fast getting a higher rank. That explains the reason why Search Engine Optimisation (SEO) techniques put extra focus to how your web content load as it defines the duration your customers stays in your website. Don't let your web host frustrate your customers with slow loading web pages
Security

Did you know that you can lose all your website files? Just like any other computer system, data can be lost through hardware failure, human actions, virus attack or force majeure actions. Webhosts must ensure that they employ all the necessary security measures such as redundancy, backups, data protection among others to guarantee all-time availability of the websites they've hosted. The last thing you want is a losing your customers as a result of negligence on the part of the web hosting company.
Website Update
Updating your website is a recurrent task which is key to competitiveness. A static website is stale to say the least and often un attractive to visitors. A good webhost must therefore make it easy for website owners to carry out this activity by providing tools and capacity. A content management system should therefore be a MUST especially if you intend to create content frequently.
Customer support
Even with all mitigation measures in place by the web hosting company, you will still require to contact the webhost once in a while for assistance in one way or the other.  There's nothing as comforting to know that your webhost is available 24/7/365 when you require them. It could be a small matter such as reset of a service available as a self-service or a major one like restore process that may require a customer care agent to take you through. Quick resolution always helps to avert a crisis that is an offline website.
Always insist on the services offered by a webhost, guaranteed time of resolution and the contact channels.
Wealthy Affiliate has a fully automated customer service platform where you can engage via email, chat, telephone on any issues affecting your website.
Cost of Hosting
Web hosting services prices have evolved over time with prices ceasing being a hinderance to the benefits of website owners. A cheap webhost is not necessarily bad, the same way an expensive host does not guarantee a high-quality provider.
Monthly traffic
There are some webhosts that charge their services based on traffic limits. Since such webhosts do not shout about this aspect, it's always prudent to demand expliciticity on this aspect as part of your due diligence. Unlimited data traffic should always be a must for optimum availability.
3. Build your website
You need a professional web developer to build your website. Wrong!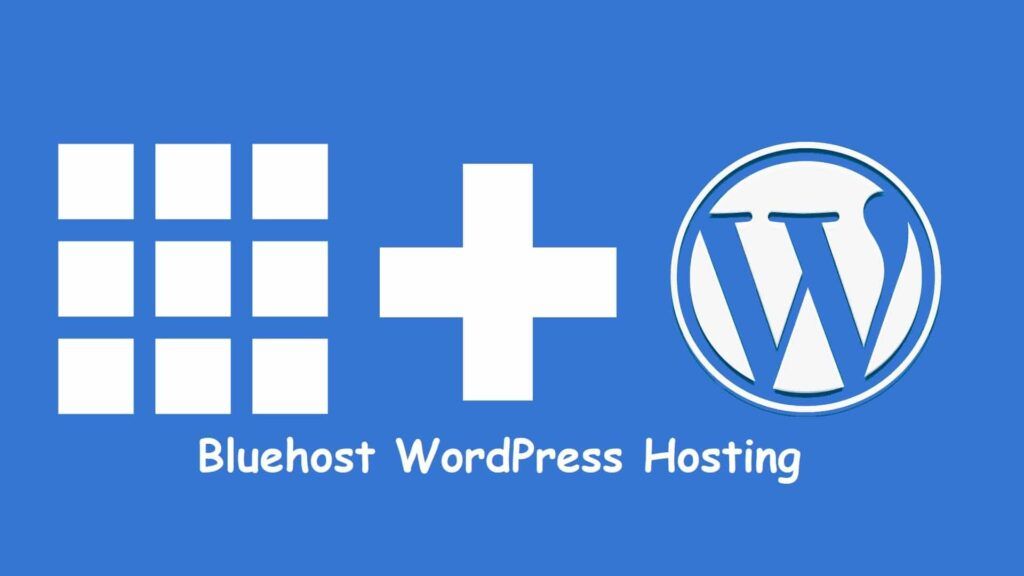 Did you know? With BlueHost Website Builder you can make a website of your own, completely free, in no time at all. This Website Builder is one of the most uncomplicated website builders to use.
You just click on Website Builder within the WordPress interface, and the drag-and-drop editor loads after a few seconds. You can then access and manage all your site's pages through the top navigation bar. Its equipped with hundreds of themes, images, and design tools.
You can also try the Wealthy Affiliate SiteBuilder, which makes this stage become as smooth as ABC. Using WordPress tools, you are taken through the process of carry out back-end configurations and content management platform to update the website whenever necessary.
4. Prepare the content to load into the website
This is basically what you want your customer to see or know, the product and services you are offering to your customers. Its therefore paramount that such information is well structured and presented to the customer. A well-designed website content makes it easy for customers to use and therefore make the business stand out.
Wealthy Affiliate has a specific service called Site Content that assist affiliates to develop clear, easy, coherent and friendly content to their premium members.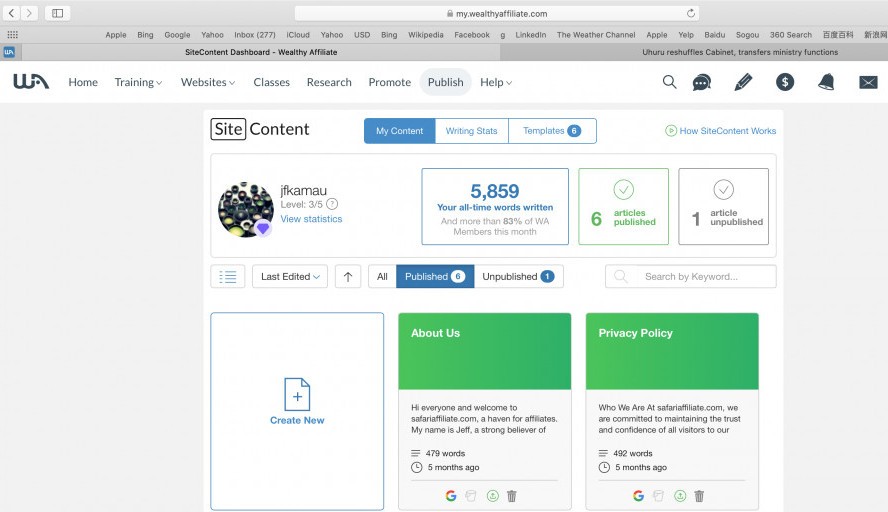 Jeff
Co-founder, Safari Affiliate
safariaffiliate.com