What are Search Engine Results Pages (SERPs)?
SERP stands for Search Engine Results Page, or the results given back to you by a search engine after typing a query. SERPs are in form of the listings you see whenever you type a query into a search engine.
SERPs contain links to websites that the search engine deems relevant to a visitor's search query.
For example, if i search for 'What is Pretty Links' in Google, i will receive back the following results;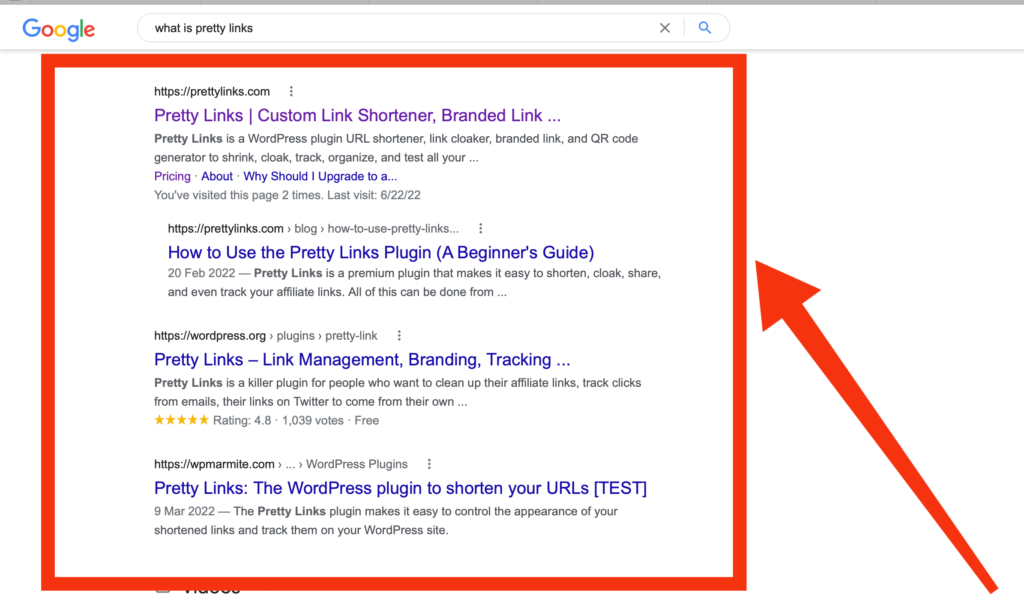 Why are SERPs Important for SEO?
The primary goal of  search engine optimization (SEO) is to rank highest on as many SERPs as possible. Therefore, we can authoritatively conclude that there's no SEO without SERPs. The higher your website ranks on the SERP, the more attention and clicks your content will receive. Every content creator dream its the ideal number one spot.
Majority of visitors on search engines focuses on the top-ranked results on SERP. This means if you rank on page two or beyond, very few people are ever going to find you.
This places SERP at the heart of organic traffic (and SEO), the pricey target of every content creator
However, the mere ranking number one on SERP is not a guarantee of all the free traffic. You still have other factors such as the paid results to contend with. Which brings us to the types of SERP results layout of typical SERP.
Types of SERP Results
SERP consists of two types of results namely organic and paid ads results. The paid ads results are from advertisers bidding on keywords through Google Ads. Although Google Ads take ad relevancy into account, their placement essentially gives priority to the commercial aspect. In the SERP below, the paid results are appearing on the right side of the page.
The organic results are borne out of search engines algorithms. It involves ranking based on a number of parameters such as relevancy, currency, content structure among others.
 Learn More How to Rank for Organic Traffic 
An organic search for 'Bluehost webhost review' yields the SERP below;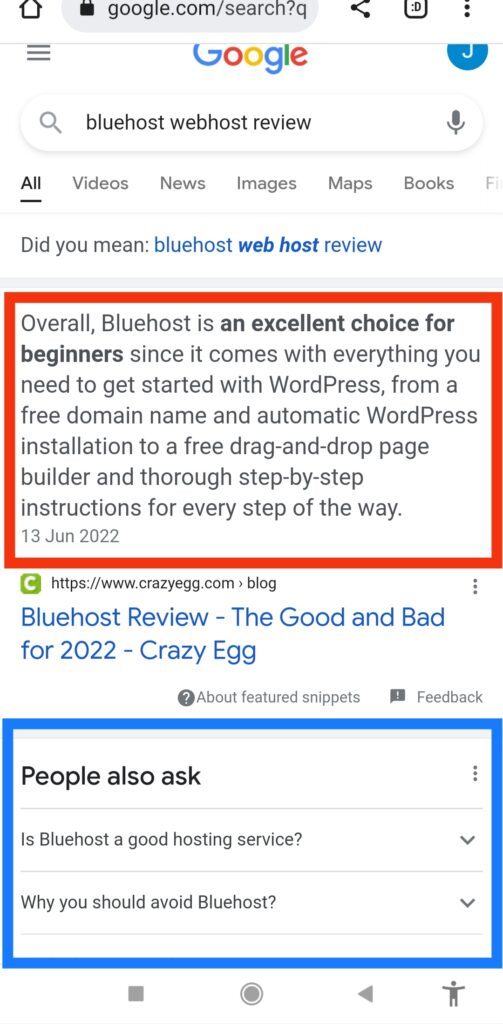 Notice the highlighted sections in red (featured snippet) and blue (people also ask) –  we shall tackle the two later in this article under SERP Features.
Elements of SERP: Understanding Go
ogle's SERP
Search engines functions differently as they compete to provide their customers the best experience. Subsequently SERP appearance may be different even for same keyword but the underlying principle is the same.
Here is the layout of a typical Google's SERP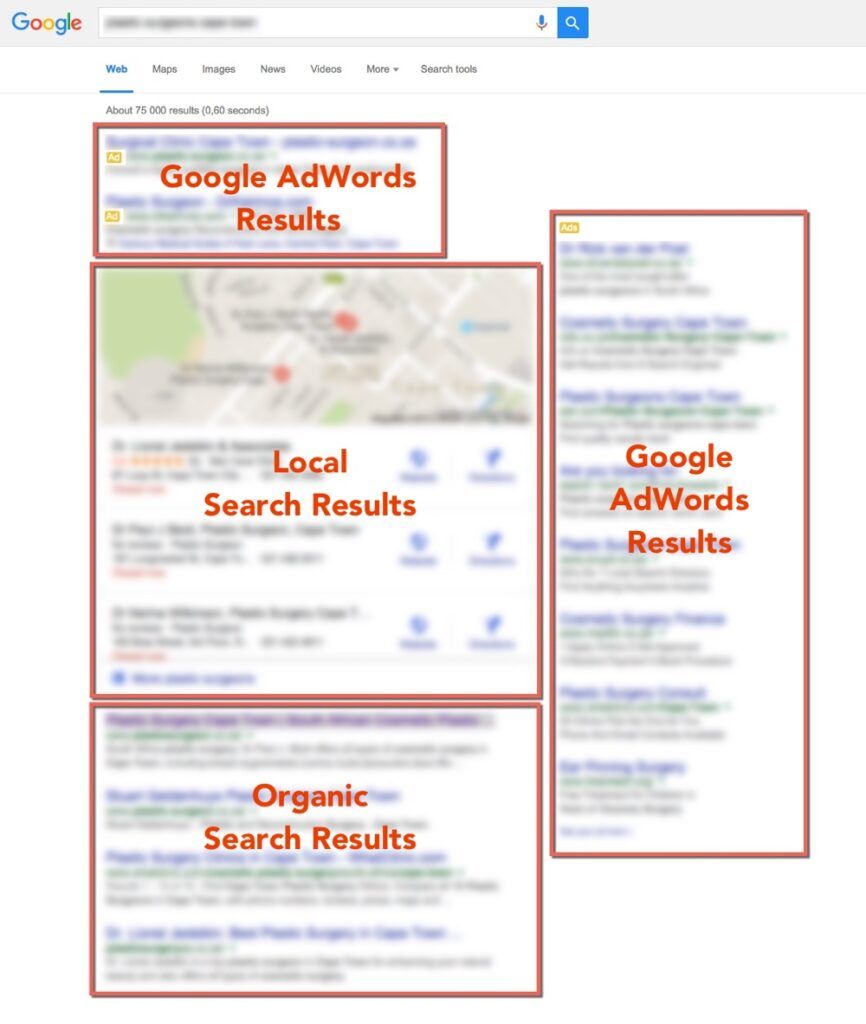 In a nutshell, the structure Google's SERP consists of the following;
Paid Search Ads – the top section of the listings is normally dedicated topaid search ads (if there are advertisers bidding on the search query). If the number of the advertisers are bidding on the particular keyword are more than the top section space, more paid search ads might will be displayed on the right-hand side of the page.
Local Pack – This part of the result consists of local results relevant to the search query.
Organic Search Listings – These are the listings that show up based on millions of websites being crawled and Google deciding which is the most relevant to the search query.
The appearance of the Google SERPs for example, is dependent on a number of factors unlike in the past when they were relatively the same for every user. The order of results may be influenced by such factors as;
Registered users- if a user has a Google account, the search results will be tailored according to previous user behavior.
Location- Combined with Google Maps, Google is able to provide localized results based on your location. This is important particularly if you are looking for local service such as health provider.
Browser history- Google will make use of cookies in your browser to tailor the results to your preferences.
Device- Desktop and mobile environment will give different search results. Google favors for example mobile optimized websites in the SERPs.
Google's SERP Features
Often, the SERPs results will include images, Google News, Knowledge Graph, Google Answer Box or links to some apps. This additional features are known as SERP features.
SERP features are additional elements on a SERP that adds something new to the typical format of a search result. They offer richer content than the traditional blue links. It's very uncommon to find a set of Google results without any SERP features.
Some of the common Google SERP features are shown below;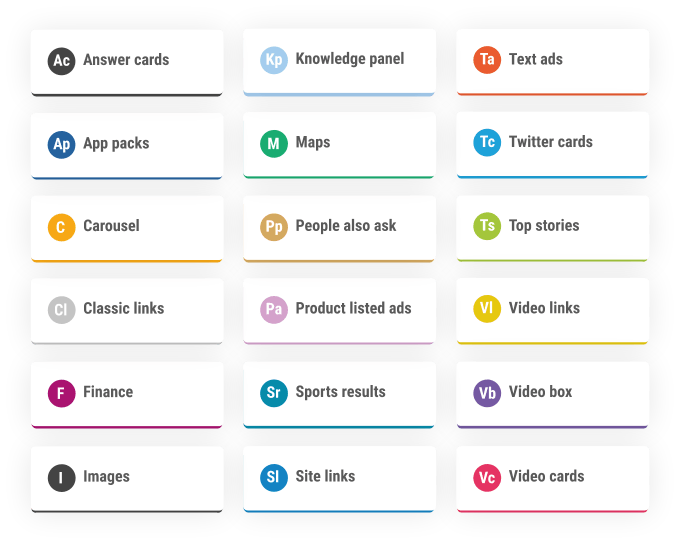 Lets look into some of these Google's SERP features that include:
Featured Snippets
These are brief excerpts from a web page that displays at the top of the Google results page to quickly address the question without the searcher needing to click on any of the available ranking links. They could be links, tables or definitions among others.
Example of featured snippet is highlighted in red frame above above
Featured Snippets are sometimes referred 'position #0' as it appears above the traditional #1 in the SERP listings. Featured Snippets grants you an opportunity to get more clicks from the organic search results, without higher Google rankings.
If your content get into the Featured Snippet,  your organic click-through-rate benefits immensely.
People Also Ask
This is a Google rich snippet feature that provides users with additional information they may be looking for from their initial query.
In the above search example (bluehost webhost review), People Also Ask includes 'Is Bluehost a good hosting service' & 'why you should avoid bluehost'.
Knowledge Panels
Google Knowledge Panels are boxes of useful information about a prominent person, place, or thing that appear on Google SERPs when someone conducts a search related to that topic.
On a mobile device they sit above or in the middle of the search results, while on a desktop computer they appear on the right side at the top of search results.
Benefits of knowledge panels include increased visibility on the web, higher brand authority and more engagement with search engine visitors.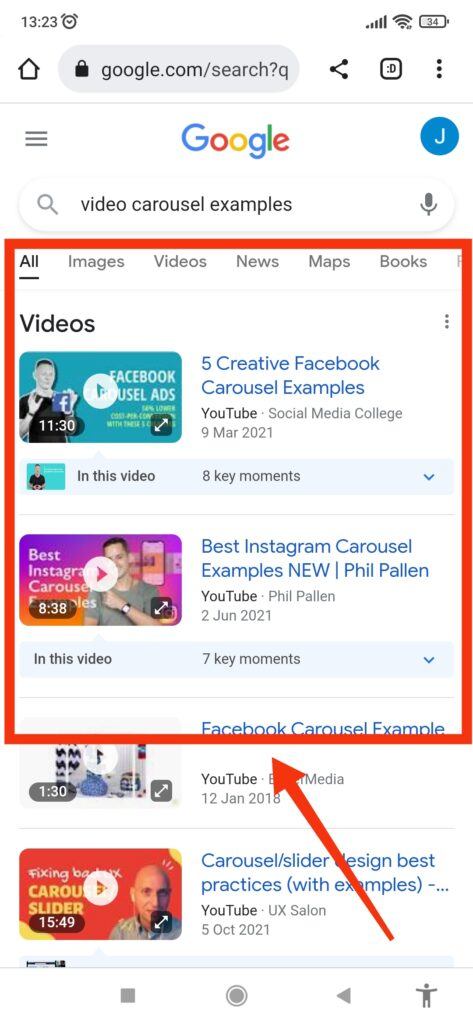 Video Carousels
A video carousel in the SERP will appear as a scrolling list-like result that mobile users can swipe through.
Video carousel promote engagement as visual/moving carousel ads are more likely to capture the attention of your target audience.
Google Maps
Maps will automatically generate on the SERP for searches that deal with locations, businesses, or local SEO queries. Google Maps have many advantages such as;
Helps potential customers find your business.
Enables people to contact your business quickly
Encourages customers to visit your location or website.
Offers customer credibility through reviews.
Image Packs
An image pack on the SERP will display when Google believes that visual information is the best way to address a search query. Images make any content more interesting and appealing by helping readers understand your content better.
Images may add value to your SEO efforts by increasing user engagement and accessibility of your website. However, they must be appropriately optimized
Search Intent and SERP: Why and How People do Online Search? 
One of the foundations of ranking pretty well in the search engine results (SERPs) is understanding how and why people conduct searches in the first place. Equipped with this knowledge, it becomes smooth to come up with content that align very well with your target customer search queries and behaviors.
There are three broad types of Internet searches namely;
  Informational
  Navigational
  Transactional
Informational
Informational searchers are simply looking for information. It could be a definition, a given topic, instructions do a particular task etc. As a content creator, focus here is to provide factual, useful and informative content. Often, paid results may not appear on SERPs of informational nature as the content has low commercial intent.
You will find a lot of guides, whitepapers, e-books etc. The SERP below search is an example of informational search.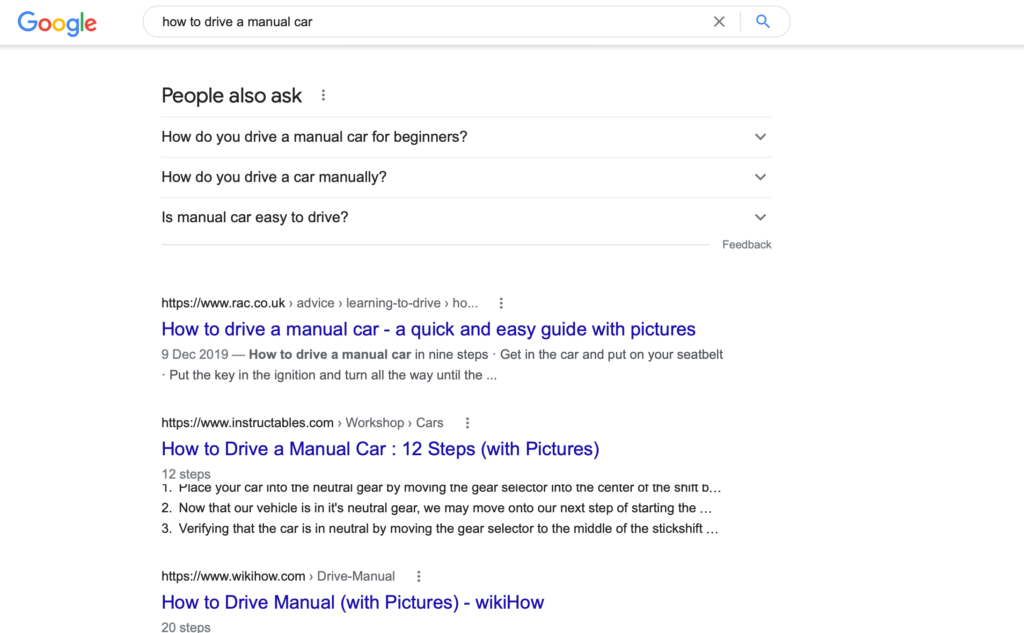 Navigational
A navigational searches are those in which the searcher hopes to locate a specific website, person, or company through their search.  Content on these pages speak to people with a specific interest in your brand's products and services. Potential customers looking for actionable ways to buy. Have a CTA (Call To Action) on every page, the objective being to lead to some action.
Below a navigational search on 'Bluehost Packages'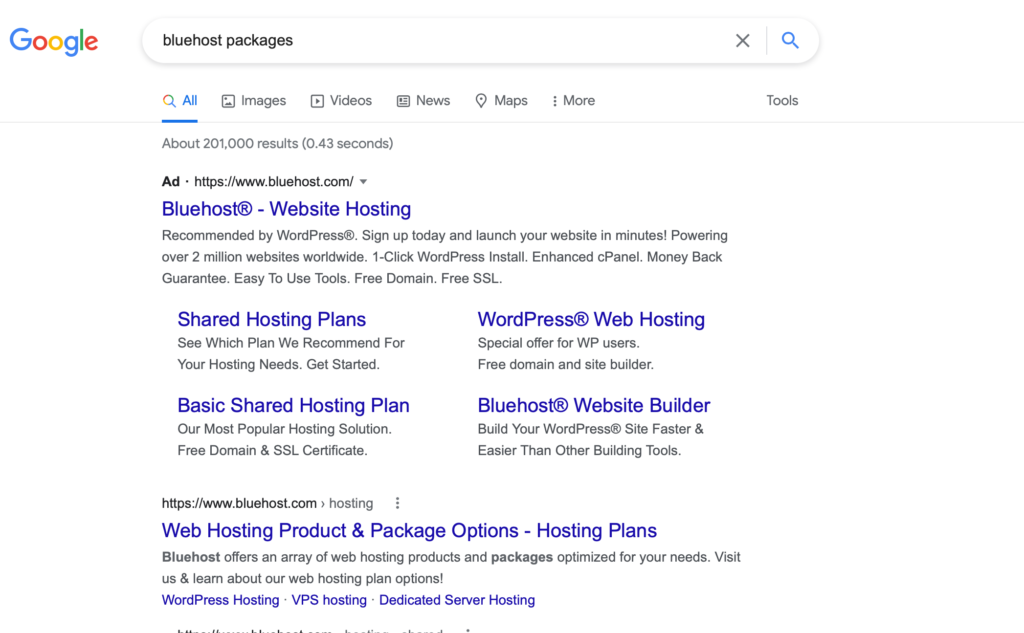 Transactional
Transactional searchers' an intent is to do something further after getting the query response. This may include buying, downloading, signing up etc.
The searches of this nature have a high commercial intent and people on these pages are often ready to buy (see the search above 'buy bitcon miners'). These pages should be optimized for particular products and categories with very clear calls-to-action with links.
Zero-Click Searches
A zero click search is when a search query in a search engine gets the answer directly on the SERP, without the need to click on any of the links. This results in a zero-click search as the user doesn't need any further clicks to complete the search.
They are queries in search engines that do not send you to a third-party website from an organic search result. A zero-click search is one that satisfies the search intent at the top of the SERP.
If you were to search for the phrase 'President of USA', this is the SERP you get with the direct answer in bold.
Why would you click on any of the 10 blue links in the search results when you get your answer right there as the first item?
That's why you want to target keywords that don't have a ton of SERP features. That way, your result will stand out and get clicked on
How to Leverage Featured snippets in Zero Click Searches
Having your content at the top of the SERP is also a sign that Google trusts your website which is a positive signal to users. Enhancement of snippets a fundamental part of on-page optimization.
Here are the top content-types to add to your website and increase your chance of appearing in the infamous position zero:
List content

List content like the one shown above is quite a compelling reasons for the online visitors to click the SERP into your website. Especially a list where only half of the content displays, and the snippet displays a 'more items' sign which will drive users to your website.
An optimized snippet can help to increase the click through rate (CTR). If machine-readable metadata (structured data) is added to a snippet, it increases the probability of being clicked-on.
Frequently Asked Questions (FAQs)
FAQs is another innovative example of a featured snippet that could lead to a click. Characterised by questions and answers, their benefits include;
Improve customers; experience (UX)
Provide instant information to assist customers make decision.
It's a sales booster as customers will have basic information to make a decision.
Enhance your online visibility with search engines.
Your employees can focus on more deserving areas of business as FAQs answer simple questions.
How-To Guides
This step-by-step guide content type (sometimes with images) are a good avenue for your customers to click through to your website. They tackle customers' problems thereby becoming useful tools for acquisition and retention. You can even optimise keyword phrases using the 'how-to' guides for SEO benefits.
SERP Analysis: How to Rank Top of SERP
SERP analysis is the process of exploring search engine results pages in order to discover what top ranking websites are doing to be at the top. By reviewing the top ranking websites for particular keywords and searches, you can uncover how those top-ranking pages reached the topmost positions and compare your content displays for searches. SERP analysis involves the following steps;
Keyword Research
It's important to understand the keywords that you are targeting and where they currently rank as the first towards creating competitive content. You should therefore invest on researching keywords both for direct and indirect competitors. Keyword Research Tools would be an excellent companion in this journey.

Search Intent
Whenever a searcher visits a search engine, there's always the reason behind it. The next step in SERP analysis is to identify this logic, then optimize your content to align with that intent for better SEO and conversion rates.

Ranking Opportunities
You need to look for hidden ranking opportunities in a number of ways such as focusing on low lying fruits keywords, keyword length or looking for keywords your competitors aren't using.

Quality Content
Without quality content, everything else is a zero-sum game. If search engines take note of your continuous improvement in content quality your stand a chance of being top of the SERPs.
Optimizing your content for relevant keywords regularly is the only answer to remain at the top pages or climb the ladder to the top.  Ensure therefore that you consistently review and repurpose your content.
Understanding SERPs, their structure and relationship with keywords and SEO is an integral part of affiliate programs success.
Jeff
Safari Affiliate