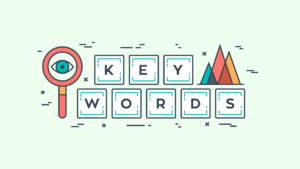 If you want your content to be discovered (we all do), it must align with the words or phrases typed in  search engines. These words/phrases are known as keywords. Keywords research involves discovering, evaluation, analysis, appraisals and ranking of such keywords. Keyword research tool makes it easy and fast to find the keywords your business needs to drive traffic through search.
Can i Create Content Without Keyword Research?
Yes you can!
However, what's the purpose of creating content nobody is searching for? If you want to attract organic search traffic, writing content without keyword research means you may miss out on opportunities to optimize your content for relevant search terms and user intent.
Keyword research is the only way to figure out what Internet users type into search engines. It will helps you answer questions like:
What's the probability of ranking for this keyword?
To rank for this keyword, what sort of content should I create?
What's the likelihood of getting good traffic if I rank for this keyword?
What competition exist to rank for this keyword?
Are searchers of this keyword potential customers?
If you are able to get answer the questions appropriately, it will help you in coming up with high-intent content with the least effort.
Pillars of Keyword Research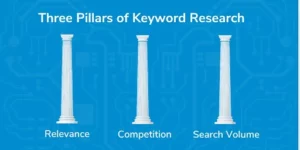 Keyword research is hinged on the following parameters:
Relevance – Relevance is on to of Google ranking checklist. Your content will only rank for a keyword if it meets the search intent. You must prove to Google that your content is the best answer for a particular query.
Competition – You rank top when you defeat competition. You become an authority. Authority is about in-depth understanding of a subject. Your content must therefore be always informative and helpful and exceptional enough to rank top of search engine results pages (SERPs). Google will provide more weight to sources it deems authoritative. Your content must always be EAT (Experience, Expertise, Authoritativeness) compliant.
Volume – Ranking high for a particular keyword is valueless if it does not drive traffic to your site. The number of times a keyword is searched per month compliments the ranking.
Role of Keyword Research Tools in SEO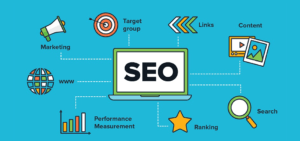 Keyword research is the foundation of Search Engine Optimisation (SEO) campaigns. Without it, SEOs, marketers, and webmasters might be blindly creating content without business justification.
Choosing the right keywords is critical to the success of any SEO campaign. For example, settling for keywords that are too broad or too narrow can have a negative impact on content's visibility, rankings and ultimately traffic. It is therefore critical to conduct exhaustive keyword research to identify the most relevant and high-potential keywords for a business. This is where keyword research tools come in.
What are Keyword Research Tools?
Keyword research tools are online applications whose primary objective is to assist players in the digital space create content that is search engine friendly. These players include content creators, marketers, SEO and website owners to identify and analyze keywords and search queries. Using data from multiple sources as well as algorithms and metrics, the tools provide valuable insights into keywords competitiveness.
Keyword Research Tools exist in form of plug-ins that does the behind-the-scenes work optimizing all your content, meta tags and other aspects that search engines look for when ranking websites.
Popular Keyword Research Tools
The digital space is awash with many keyword research tools, free and paid up. While many of these tools share common features, there can be variations in the data they provide, the level of detail, and the specific proprietary  functionalities. These differences can significantly impact their usability, effectiveness, and the insights they provide to users.
Jaaxy – developed by Wealthy Affiliate, Jaaxy is one of the most powerful keyword tools in the market that delivers accurate, real time data that helps in coming up with SEO ready keywords.
Google Keyword Planner: Provided by Google Ads, this tool allows you to discover relevant keywords and get insights into their search volume, competition, and cost per click (CPC) data. It's primarily designed for Google Ads users but can be useful for SEO keyword research as well.
SEMrush: A comprehensive SEO and digital marketing tool that offers keyword research capabilities. You can use it to find organic and paid keywords, analyze competitors' keyword strategies, and get keyword difficulty scores.
Ahrefs: Another powerful SEO tool that provides keyword research features. Ahrefs offers a vast keyword database, search volume data, keyword difficulty analysis, and competitor keyword research.
AnswerThePublic – This tool provides keyword suggestions in the form of questions and phrases that people commonly search for. It's useful for finding content ideas and understanding user intent.
What are the Benefits of the Keyword Research Tools?
Keyword research tools are important to SEO for many reasons:
Understanding User Intent – analyze user intent thereby enabling creation of content that that matches the searchers' needs.
Discovery of New Keywords – using the user input (seed keyword), the tool expands the range of potential keywords relevant to a niche by generating keyword suggestions.
Keyword Difficulty – indicate the probability of keywords to rank in organic search results.
Analyze Search Volume – provide data on how frequently specific keywords are searched for in search engines over a period.
Conduct Competitor Analysis – allow users to analyze the keywords targeted by competitors. In the process, potential opportunities and gaps are identified for use in SEO and content strategies.
Track Keyword Rankings – allow users to monitor their website's performance in search engine rankings for specific keywords.
Content Strategy – By knowing which keywords are relevant and can rank, you can create content around those keywords, ensuring that your website addresses the interests and concerns of your target audience.
On-Page Optimization – on-page optimization enhances your chances of ranking higher for particular keywords. Incorporating relevant keywords into your website's meta tags, headings, and content assists search engines understand what your pages are about.
Long-Tail Keywords – Keyword research tools allow you to find long-tail keywords, which are more specific and often less competitive than broad keywords. Focusing on long-tail keywords enables you to target niche audiences and attract highly relevant traffic.
Using Keyword Research Tools: Example of Jaaxy
Jaaxy is developed by Wealthy Affiliate, a leading affiliate program. The platform is available through sign-up membership options, one being a free trial version.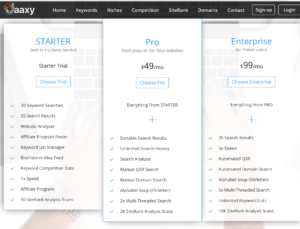 Jaaxy uses the Google Instant and Google Autocomplete to predict the search terms enabling you get data on actual searches that people perform on Google. The idea is to equip you with more ideas on long-tail keywords. While many keyword research tools soley target Google search engine, Jaaxy also covers Bing and Yahoo making it a single tool that covers all the dominant search engines.
Let's say we want to write content around affiliate marketing topic using the Jaaxy. The metrics available on the tool explains the following aspects of the keyword phrase: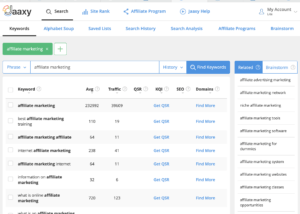 phrase: This is the keyword phrase we intend to use in our content (in this case affiliate marketing)
Avg.:  This is the overall monthly traffic this search term gets. This number represents the traffic in Google, Bing, and Yahoo combined.
Traffic: This is the estimated amount of traffic you will get if you rank on the first page of Google search results.
QSR:  Known as Quoted Search Results, this is the exact number of results in Google that you are competing with under this search phrase. In other words, it tells you how many other sites are employing the same keywords into their content. The lower the competition, the better for your website.
KQI (Keyword Quality Indicator): Keyword Quality Indicator indicates how Jaaxy's algorithm classifies the quality of the keyphrase.
SEO: This is a result of what Jaaxy thinks is best for SEO, the likelyhood of ranking high with this specific keyword. The higher the number, the better is the keyword.
Domains: Jaaxy lets you search for domain names that match your keyword. It will also show you whether those domains are available to purchase or not.
Related: The related metric is a listing of all keywords closely associated with your search phrases, giving you access to more keyword ideas. You can brainstorm for more keywords based on your content here, too. Additionally, since you also get to see the ranking of the keywords, you have an opportunity to preview into competition which gives you a competitive adge.
Brainstorm: This feature will avail to you the keywords that are trending for a particular niche. You will not only have access to keywords dominating for a particular niche at that moment but also an idea of the most popular keywords in other social media platforms such as Twitter and Amazon.
Saved Lists & Search History: These two separate dashboards enables you to access keyword research old data. As you carry out your keyword research you can select particular keywords to save in any of your created 'saved lists'.
From the above, the QSR (quoted search result) is the indicator how 'good' your keyword is (the lower the better as it indicates less competition). This 'good' keyword is then used towards the next task of refining your search. A keyword with monthly QSR of 50 is ideal but anything below 300 is a good starting point. The QSR is a measure of competition for your keyword, the lesser the competition the better.
Another column in the Jaaxy.com results page is the KQI (keyword quality indicator) If you see a GREEN light, then the keyword is great for SEO and means you will rank easily if you write content that focuses on that keyword. This also means that the keyword gets some decent traffic. RED means that the keyword will be very difficult to get your website ranked under. Yellow is in the middle, it means that it may be a little harder to rank for, but certainly possible with some good content and a domain that is more mature.
You can earn commission by referring others to Jaaxy.  The commission you earn is based on the Jaaxy package you have earn referrals and is quite competitive.

Jeff
Safari Affiliate