Why Keyword Research Important to SEO?: The Role of Keyword Research Tools
If you want customers who are searching the Internet to discover your content or products easily and fast, you must use words or phrases that search engines algorithm use to conduct searches. You must first understand the foundation of search engines mechanisms so that your web pages contain words and phrases aligning to such design. Such words and phrases are often referred to as keywords and are some of the basic tools of SEO.
Keywords research involves discovering such keywords and entails conducting evaluation, analysis, appraisals before prioritizing the best phrases to use in your content. You may want to compare keywords with Google Maps which indicates the direction to take and ensures that you stick to the route so that you reach the intended destination (searchers reach your content).
Keyword research is the only way to figure out what Internet users type into search engines. In its absence you may end up with content nobody is searching for.
Keyword research also helps you to answer questions like:
What competition exist to rank for this keyword?
What's the probability of ranking for this keyword?
To rank for this keyword, what sort of content should I create?
What's the likelihood of getting good traffic if I rank for this keyword?
Are searchers of this keyword potential customers?
If you are able to get answer the questions appropriately, it will help you in coming up with high-intent content at the least effort. Keyword research also assist in understanding your costumers' taste in the Internet as you can clearly see what stuff they are searching.
How to come up with winning keywords?
The first step in conducting keyword research is having a clear idea of the kind of stuff potential customers search for in your niche. This implies that you must have a good knowledge of your niche. Keyword research tools occupies a pivotal position in any successful keyword research and therefore its paramount that you understand how these tools work so that can utilize them optimally.
Having said that, the following simple steps can help in finding attractive keywords;
1. Use of seed keywords– seed keywords are usually one or two short-tail phrases intended to sprout other keywords from which you can build modify to generate other keywords to optimize your content. Often, such keywords are the pillar of your niche and provide a 'seed' to commence the process of finding 'competitive' keywords. It's from these keywords that keyword research tool will use as the starting point to generate for you more keyword ideas.
If for example your niche is camera lenses, sample seed keywords might include;
Telephoto lenses
Macro lenses
Specialty cameras
Wide Angle lenses
if i do a search in Google using Wide Angle lenses, as i type the phrase, the Google autosuggest will list for me many combinations of phrase to use. In my case, the see keyword of wide angle has resulted into other long-tail keywords which i can use to arrive at more competitive keywords for use in SEO.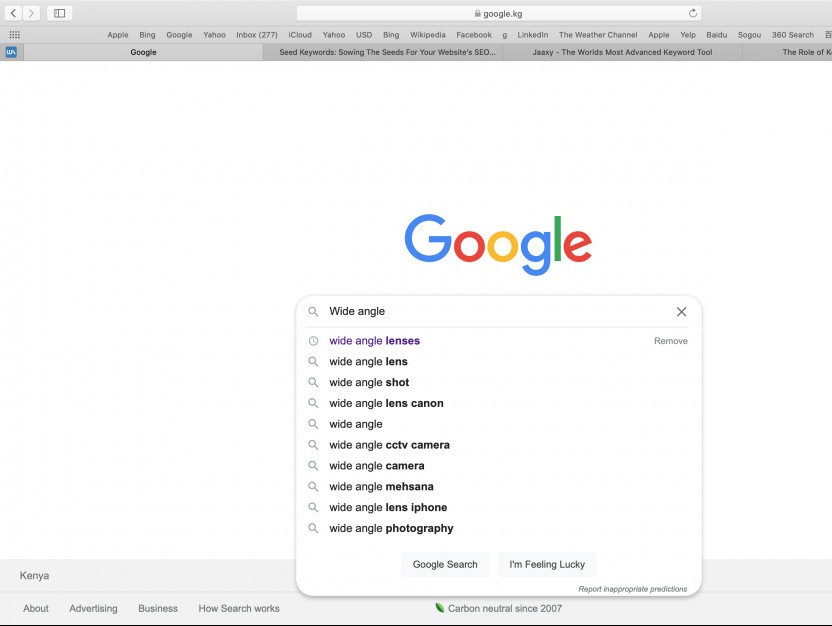 2. Competitors- In business- knowing your competitors, and their offering, can help you make your products and services stand out. You can leverage on their weaknesses, and improve your own business performance. Although driving traffic to your own website is the priority of keyword research, identifying which keywords drive traffic to your competitors can even get you better results. For example, if you type a seed keyword in Google, you will see who is ranked topmost. In fact, as you type, the autosuggest facility in Google will keep on leading you closer to more of your competitors.
For example, if I search for the phrase wide angle lenses, I can see who rank topmost (in this case Adorama) as shown in the screenshot below. From here, I can research what keywords drive traffic to this site.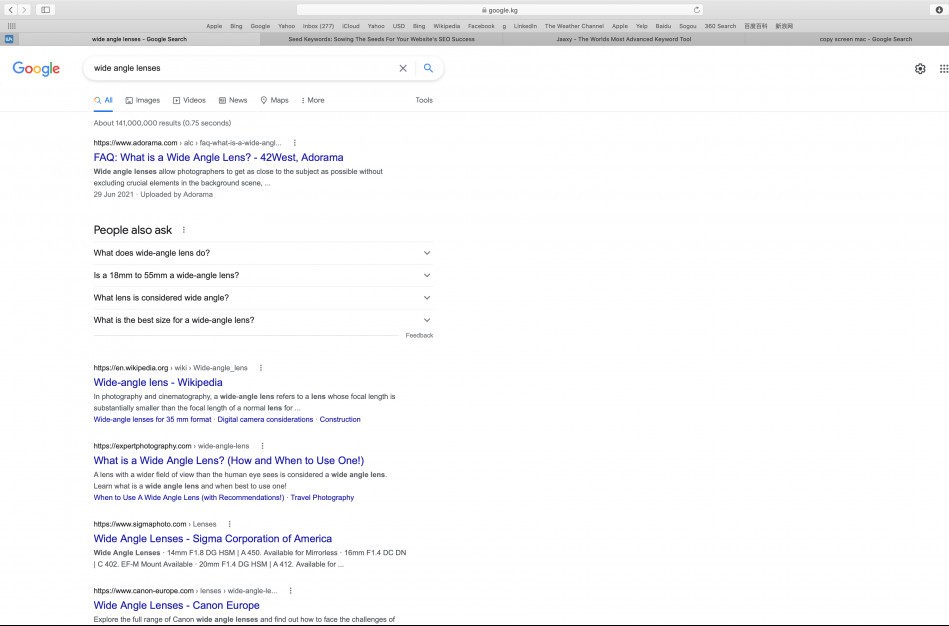 3. Keyword Research Tool– In addition to the seed keywords and competition, there is a massive pool of keywords which will still be available outside these two methods. Keyword Research Tools is another strategy to discover phrases that can attract searchers to your content like magnet.
Keyword Research Tools exist in form of plug-ins that does the behind-the-scenes work optimizing all your content, meta tags and other aspects that search engines look for when ranking websites.
There are many Keyword Research Tools in the market, free and paid-up, but with more or less same mode of operation. The starting point is the seed keyword which is then applied to sprout out keyword ideas from the respective tool's knowledge base.
Jaaxy.com Keyword Research Tool is one of the most powerful keyword tools in the market that delivers accurate, real time data that helps in coming up with SEO ready keywords. To use this tool, you are required to register for a free account, upon which 30 free searches are offered to have a feel of its prowess (Starter).
Register for your free Jaaxy.com account here
http://www.jaaxy.com/createaccount
Lets take a journey of using the Keyword tool using the Jaaxy.com as an example. Using my camera lenses niche, I will use the wide-angle lenses as the seed keyword to achieve high ranking long-tail keywords as shown below;
From the above, the QSR (quoted search result) is the indicator how 'good' your keyword is (the lower the better as it indicates less competition). This 'good' keyword is then used towards the next task of refining your search. A keyword with monthly QSR of 50 is ideal but anything below 300 is a good starting point. The QSR is a measure of competition for your keyword, the lesser the competition the better.
Another column in the Jaaxy.com results page is the KQI (keyword quality indicator) If you see a GREEN light, then the keyword is great for SEO and means you will rank easily if you write content that focuses on that keyword. This also means that the keyword gets some decent traffic. RED means that the keyword will be very difficult to get your website ranked under. Yellow is in the middle, it means that it may be a little harder to rank for, but certainly possible with some good content and a domain that is more mature.
Jaaxy has one of the most exciting affiliate programs available anywhere online and you can earn consistent revenue by simply referring others to the community!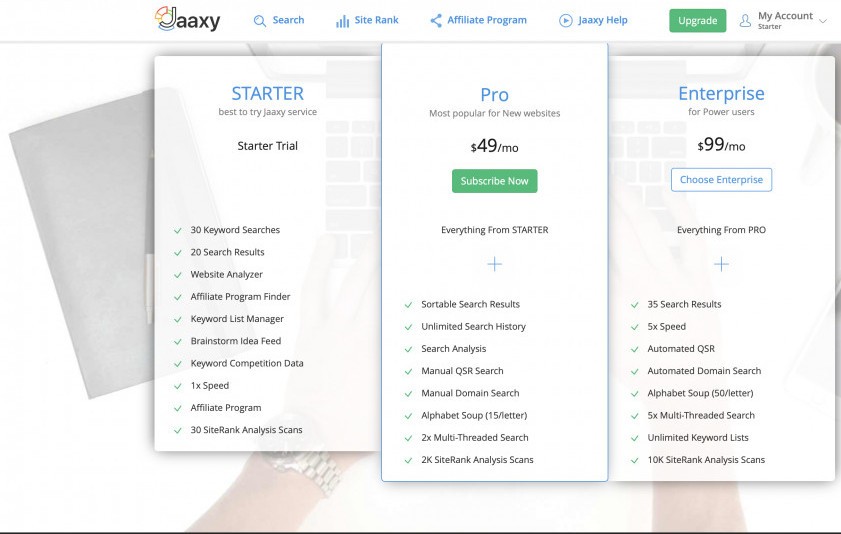 Wealthy Affiliate, an all-in-one platform that help affiliates build the entire affiliate marketing business on it, also has a keyword research tool for its paid-up members. The tool offers 1000 hand-picked keywords and unlimited searches.
You can join the Wealthy Affiliate program by clicking here
Google Keyword Planner is perhaps the most well-known keyword tool. It's free to use, and although it's mainly for advertisers, you can also use it to find keywords for SEO.
Jeff
Co-founder
Safari Affiliate