What is Affiliate Marketing?
Before advent of websites as the leading sales platforms, most marketers preferred using sales people to push their products. For example, a salesperson would be given products by a manufacturer at a discounted price to promote, the discount being the commission. Affiliate marketing is not any different save for the use of websites to sell products and services.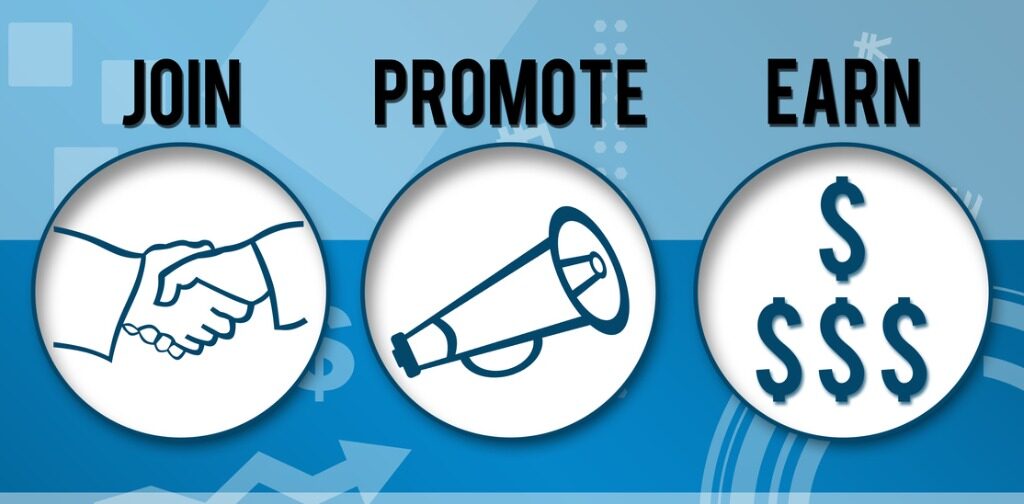 Affiliate marketing is a form of marketing where an organization promise to pay a commission to other organizations/individuals (websites & blogs) for directing customers to their website. In a nutshell, affiliate marketing involves a pay-for-performance arrangement: websites & blogs that sends customers to the product seller website (referred to as Affiliates or Affiliate Networks) are paid if the customer click on a link or purchase a product/service.
Before we proceed, some definitions to avoid confusions;
Affiliate: is an individuals or firm willing to promote someone else's products for a small percentage of profits made on their sales.
Affiliate Companies: Also known as merchants/advertiser, these are firms that own the products or offer services and want other people to help them market their offerings for a commission
Affiliate Networks: These are firms that bring would-be affiliates (bloggers and web publishers) and merchants seeking affiliate together, assist the affiliates to setup the required infrastructure (websites, links, activity tracking) and arranges all payments. For their role in the supply chain, the affiliate networks take a percentage of the commission earned by the affiliate. Popular affiliate networks include ShareAsale, Rakuten, CJ Affiliate, Amazon Associates among others.
Affiliate Programs: an arrangement in which a merchant pays a commission to affiliates for sending traffic and/or sales their way. Wealthy Affiliate, ClickBank, eBay, Amazon are some of top players in this category
How Affiliate Marketing Works
In affiliate marketing, visitors to a website typically click on ads which direct them to the advertiser's website. The advertisers in return would pay the owner of the website where the ads is placed (the affiliate) a fee. The fee is based on a per-click basis or as a percentage of the amount the visitor has spent on the advertisers' site.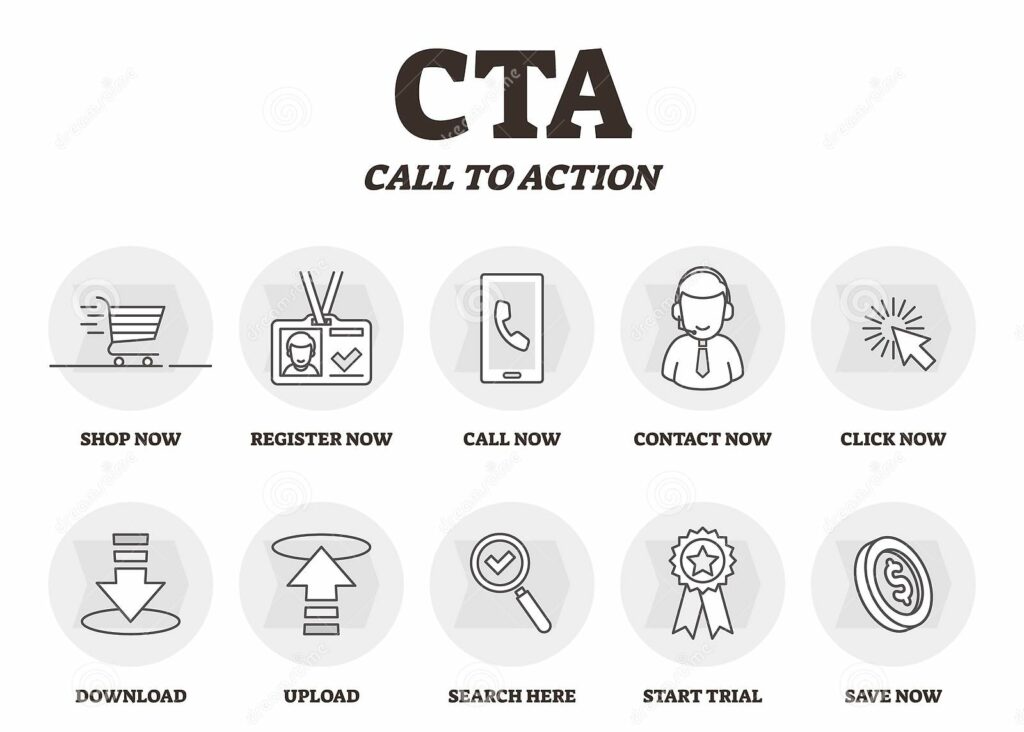 An affiliate is only paid if the visitors performs some actions on the advertiser's site, in what is known in marketing as Cost Per Action (CPA). Besides outright sale, such actions include filling out a form, completion of a survey, watching a video, submitting an online form.
As a beginner affiliate all that is required of you is to sign up with an affiliate marketing program. Most good affiliate programs are often free to join, so you don't have to worry to get started. You can find affiliate programs directly through Internet search through or via an affiliate network like ShareASale, ClickBank or CJ Affiliate.
After joining, you'll receive a unique link or code that will allow the companies to track every customer you recommend to them. If a customer ends up making a purchase through your link, you earn a commission.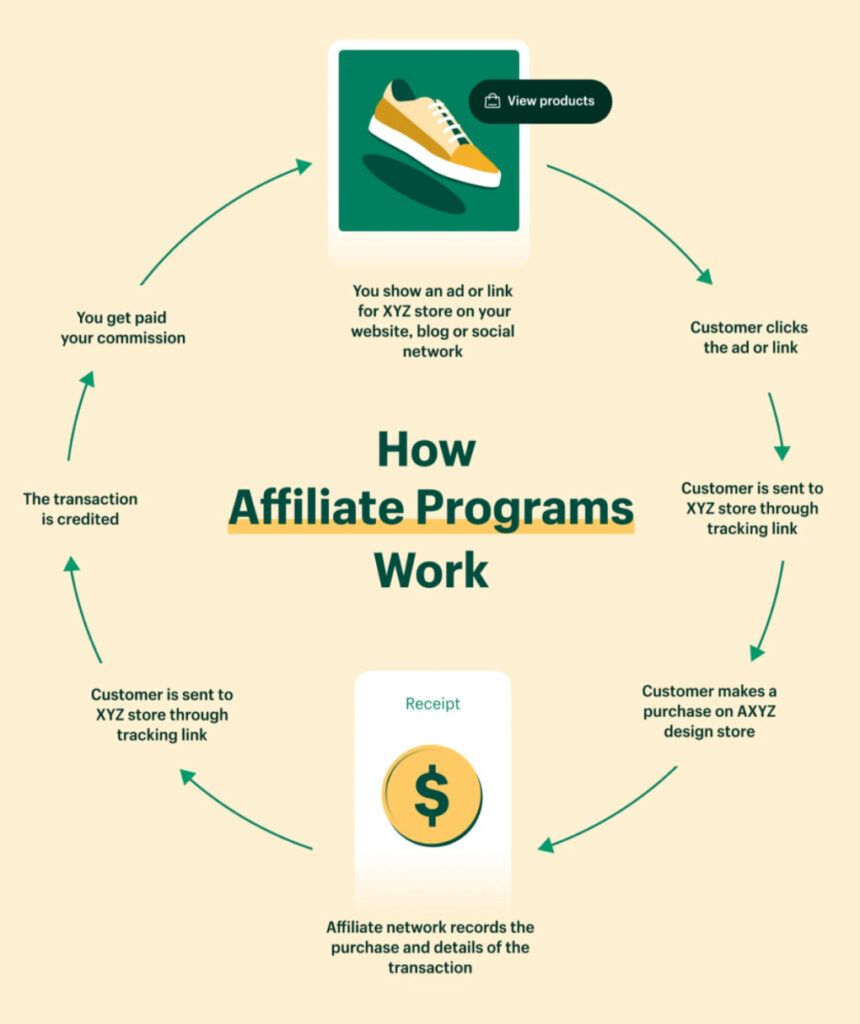 A typical affiliate program works as follows:
You Join an affiliate program and get allocated a code
You promote a product on your website, blog, or social network.
A visitor to your blog clicks your unique link.
The visitor ends up purchasing the product.
The affiliate program or affiliate network captures the transaction and records it as yours.
The purchase is confirmed by the owner of the product.
You receive a commission.
Payment is based on the following common affiliate marketing models:
Pay-Per-Click (PPC) – An affiliate gets paid for all the valid clicks generated regardless of whether these clicks resulted in sales or leads.
Pay-Per-Lead (PPL) – Companies pay a fixed commission for every qualified action a click generated.
Pay-Per-Sale (PPS) – Companies pay a percentage of all qualified sales. This percentage is agreed upon by the company and its affiliate.
Types of Affiliate Programs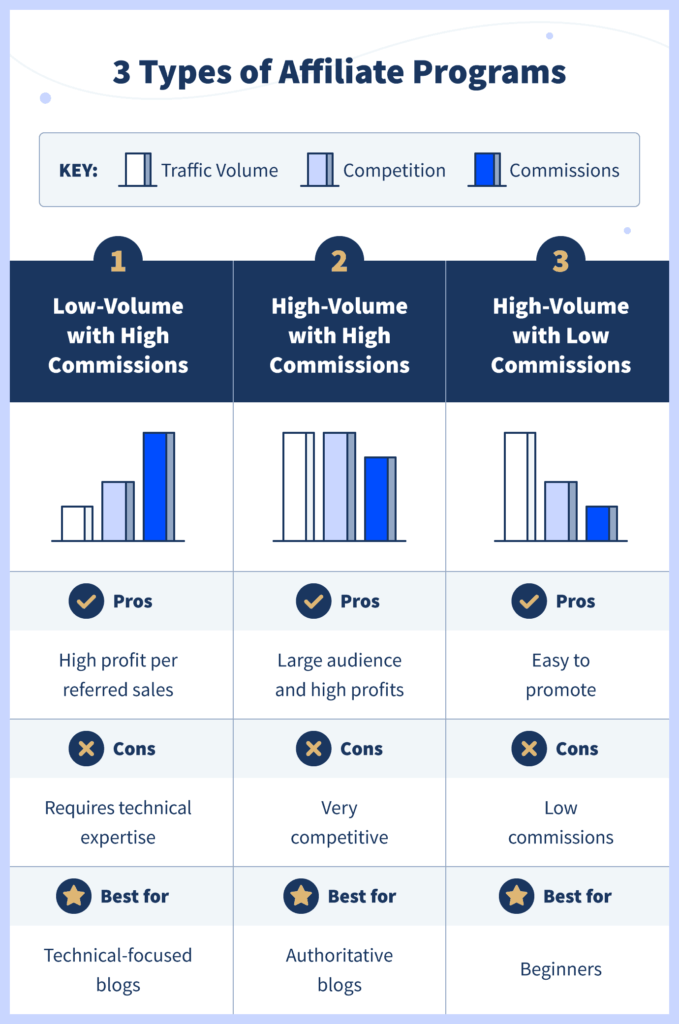 Affiliate programs can be classified into three major categories based on three determinant attributes as follows;
Traffic Volume
Competition
Commissions
Each is suitable for different type of business. For example a low-volume, high commissions program requires technical expertise and thus will yield high profit for referred sales. It would therefore be best suited for technical-focused blogs.
Choose a program based on the nature of your niche.
Foundations of Affiliate Programs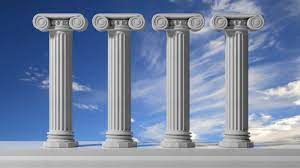 Rome was not built in one day, or so the saying goes. It took architects, engineers, builders plenty of time, planning and sweat to execute the designs. As a result the city's infrastructure has stood the test of time. Every good building needs a solid foundation to build on. This is very true for every successful affiliate programs.
Affiliates require to conduct a lot of ground work, planning the foundation of their affiliate programs so that they can be prepared for the future. For example, finding merchant partners, high commission affiliate programs, or affiliate marketing jobs that pay well and are consistent requires a great deal of up-front work yet it is a must-do before you get started.
So to help you build a success affiliate online business, the following steps will give you a solid foundation as you start as an affiliate;
1. Niche
Choosing a niche is the most crucial step in starting a successful affiliate marketing effort. It defines your success or failure. You cannot be a jack of all trades otherwise you end up failing to become an expert in any, and that spells doom for your online business. The natural rule is to go for something you are passionate about as a starting point. It could be that hobby, existing gap in your environment or skill which you only need to align commercially.
Fortunately, there are some platforms that can assist in coming up with a niche ideas.  Jaaxy  Keyword Research platform for example will assist you identify available niche opportunities from the ideas you provide in form of phrases.
2. Demand
It's also important to evaluate the market for your affiliate niche so as to identify potential customers. Some lingo put it as 'high demand, low competition niche' (though not always practically possible). Some online tools such as Google Trends can assist to gauge the demand of particular product as it shows its search patterns.
3. Competition
A product might be on high demand but the competition is too high which may water down the demand aspect. The focus should be a balance between the demand and competition. Keyword Research Tools is one way to analyze the level of competitiveness of a particular product. Even a typical Google search can also indicate to you the competition around your product.
4. Affiliate Programs
The next step is to ask yourself; which partners are available to assist me promote my products? The affiliate programs connect the merchants and the affiliates making them pivotal in the success of your business. Understanding how affiliate programs work, support offered to affiliates, reputation of the program, commission and structure of the commission paid among other aspects is key to your success.
Some affiliate programs such as Wealthy Affiliate offers your a lot of support in form of comprehensive training, competitive commission and lifetime cookies (small programs used to track commission payable).  Other affiliate programs will require you to have a minimum traffic to be admitted while the cookies life is limited to say, 30 days. Evaluate your affiliate programs for your niche thoroughly.
5. Affiliate Marketing Methods
For starters, having own website is one of the biggest steps towards laying foundation of your success in affiliate business.Its literally your brick and motor! Whether you decide to engage a professional developer for your website or use the numerous available free platforms, always ensure you follow the basics of designing and hosting a website recommended. You can also run paid ads using platforms such as Google Ads
6. Content Content Content
In online marketing, traffic is the King! You derive traffic from value content. You will only receive visitors to your website or blog if you deliver value to the visitors. The online business is that of trust and you can only gain it from your customers if you deliver factual, relevant, clear, current, interesting and grammatically correct. Whether its a product review or informational content, do it very well.
Benefits of Affiliating Marketing
Since it operates on pay-for-performance basis, the affiliate always gets paid proportionately for the work done while the merchant is only provided with qualified sales.
The advertiser is provided with an established customer base through the affiliate who benefits from steady income
The affiliate benefit from using logos and brands of reputable companies that provide credibility and prestige for ease of marketing.
The setup cost is comparatively low for both merchants and affiliates. An affiliate network will take care of research, infrastructure and other setup costs enabling the affiliate to focus on winning customers. Affiliates therefore do not  have to worry about commission payments, security of their commission, tracking, and other costs associated.
Now that you understand how affiliate marketing works, its time to do a test run and explore the money-making possibilities available in the online space.
Click here to create a free account plus massive training content on affiliate programs
Jeff
Co-founder, Safari Affiliate
safariaffiliate.com