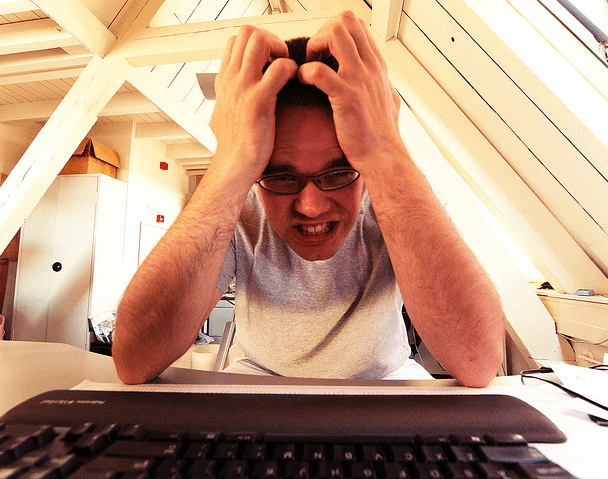 Currently, there are thousands affiliate programs in the market. As a result, choosing an affiliate program becomes a rather difficult decision to make particularly for beginners. This situation is not helped by the existence of so many online scams on the subject. Without a proper guide, you can easily become a fraud statistics.
As an affiliate, it's important to understand first how affiliate programs works and their offerings. In addition you must understand the industry best practices and loopholes. Only with this knowledge can you choose an affiliate program  that best align with your business objectives .
To affiliate programs, the focus is to attract affiliates that generate business for them. Affiliate want to make commissions for their efforts.
Affiliates require some form of reward system whenever a sale or conversion is made through their affiliate link. In addition, they want assurance that their affiliate links is free from any form of manipulation to deny them their rightful earnings.
Here then comes a balance between several factors such as affordability, profit margins and competition.
The following are some of factors to consider before choosing an affiliate program;
Acceptance Criteria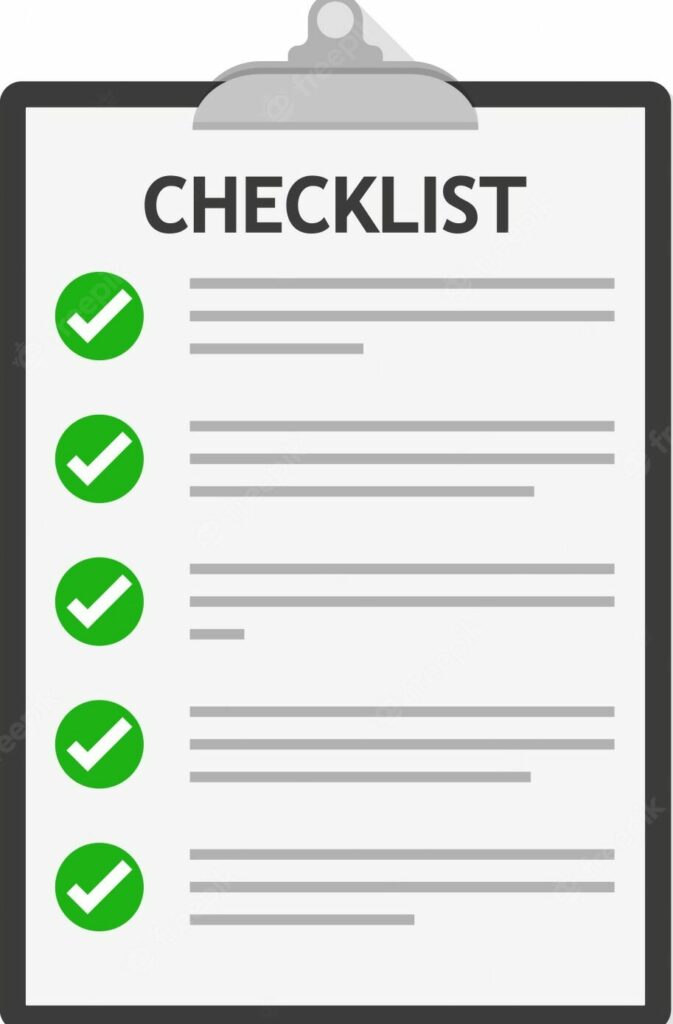 While joining most of the affiliate programs is free, several programs provide the new affiliates with support of various forms to enable them stand on the feet in the shortest time possible. Support usually take the form of technology setup, website & domain, training, customer service etc. This support is often a key determinant to success or failure of many beginner affiliates.
Some affiliate programs require affiliates to have running websites as well as a certain number of visitors to be accepted, which will not appeal to beginner affiliates.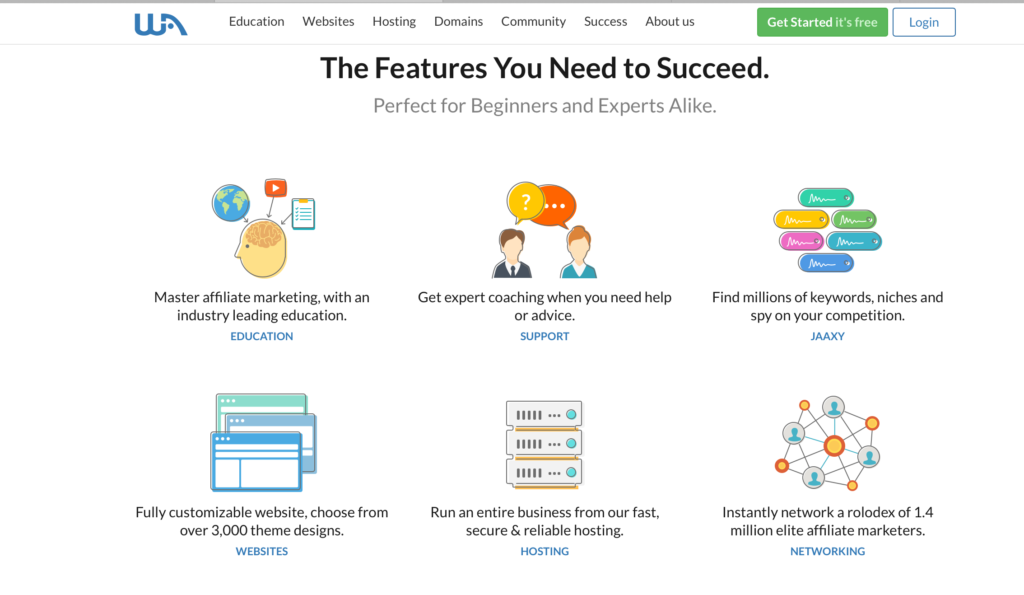 The Wealthy Affiliate starter program which is designed to ensure beginner affiliates become successful in the shortest time possible. In addition to being free and offering myriad forms of assistance (technology knowhow, website and domain registration, step by step training, live support, Keyword Research Tools among others), the program also has a community of members where peer review and assistance take center stage to accommodate every phase of learning.
Affiliate Programs Commission
Its all about money!
Affiliate programs and networks use several strategies in designing commission regimes to ensure they attracts and retain affiliates as well as sustainability.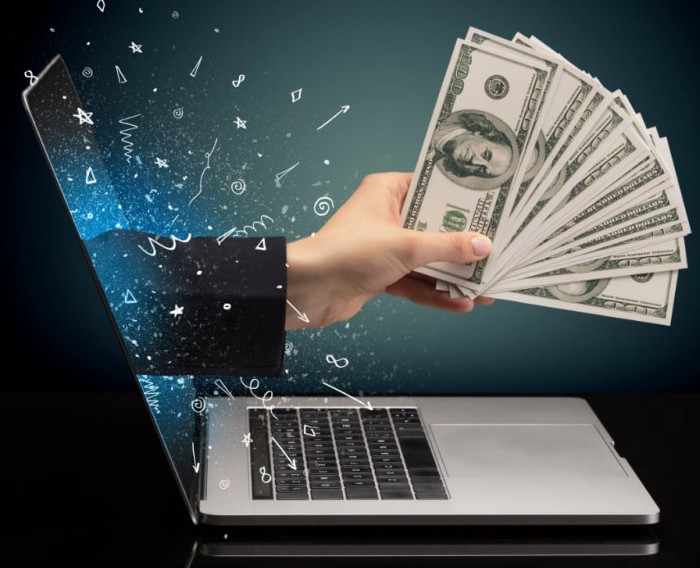 Cash is King! You have become an affiliate to make money from your efforts. Commissions paid to affiliates are the mainstay of affiliate programs, and the force that motivates affiliates to keep promoting and selling your products and services.
Commission paid by affiliate programs is usually a percentage of a sale, a flat commission paid per sale or a combination of both. Its important you understand what actions result in earning you commission from an affiliate program. Subsequently, you need to ask yourself some of these questions;
Does the affiliate program pay a percentage or flat commission?
Does the affiliate program offer a uniform or layered commission rate?
When will I qualify for commission payment? A sale, a lead etc.
What is being paid by other affiliate programs, verticals and other competitors?
Does the affiliate program have a bonus policy?
Do I get paid cash or some form of credits?
The affiliate program at Wealthy Affiliate is not just advanced from a technology standpoint, but you also get one of the most appealing RECURRING commission structures in the affiliate marketing space. Below is a screenshot of the commission structure;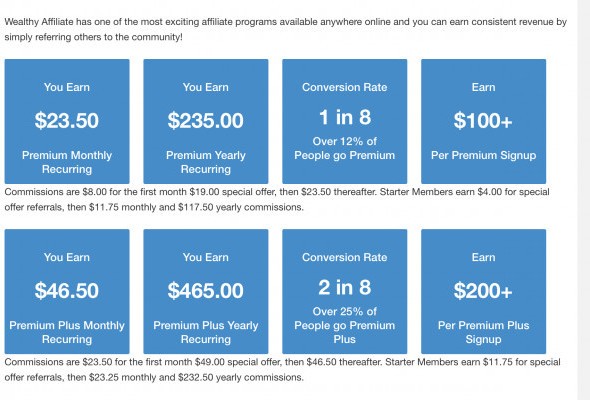 When you refer someone to sign-up for free, your goal is to get them to set-up their account. Setting up ones account will lead you to an initial $1 (2 credits x $0.50). These add up when you are a Premium member.
When someone sets up their account, they are granted an initial $19 first month offer. This converts very well and almost everyone decides to stay after the first month because of the value, the quality of the services, the help they get, and the overall positive experience offered at Wealthy Affiliate.
Cookie Lifetime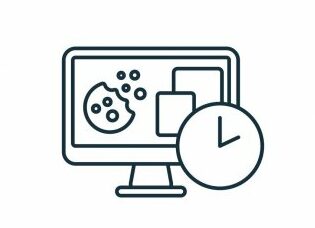 Cookies are text files with small pieces of data, say a username and password, that are used to identify your computer as you use a computer network. In affiliate programs lingo, cookie lifetime defines the period between the initial click to the purchase that an affiliate is eligible for the commission. These programs setup in the browser are very critical in tracking the sales that happen via the affiliate links.
The cookie lifetime is normally set in the affiliate account page and if a product is purchased within this period, the affiliate will receive the commission. However, if the sale or referral happens after the expiry of the set lifetime, the affiliate will not receive any commission. Industry standards for the referral periods range from 1 month to 3 months although specific affiliate programs have different durations.
The rule of thumb is: the longer the better for affiliates. An affiliate program with a short cookie lifetime is less attractive to affiliates. Pay close attention to the cookie lifetime policy when choosing an affiliate program.
Wealthy Affiliate offers a lifetime commissions and lifetime cookies, which is truly a first in the industry. If you refer someone to WA, they are your referral FOREVER. 
Join Free Wealthy Affiliate Membership Account Now
Payout Terms of Affiliate Programs
Affiliate programs normally pay their affiliates after a certain period, say a month or 45 days. There are others that pay when balance reaches a set minimum.
Other programs require affiliates to earn a minimum amount as an eligibility criterion with those that fails to reach the threshold discontinued from the program or charged some form of penalty.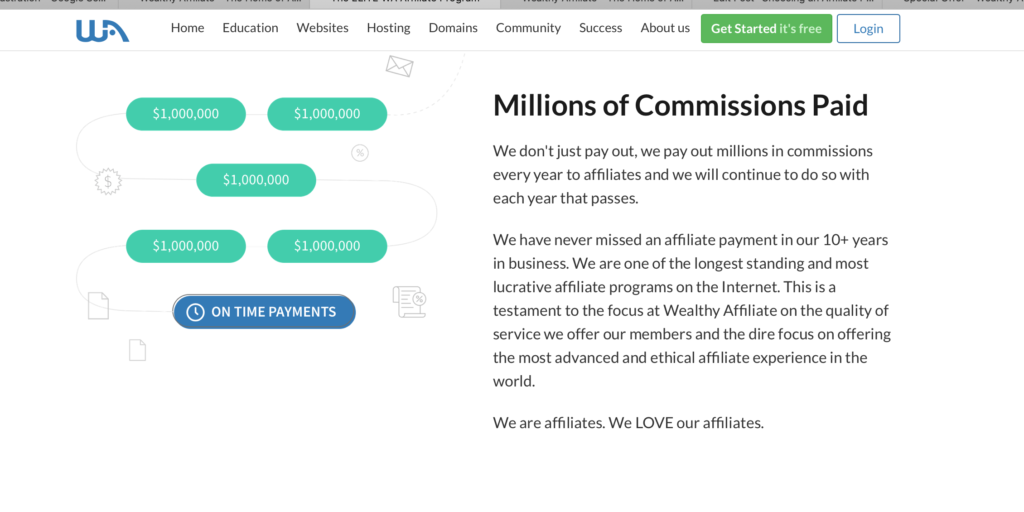 Payment of commissions for referrals are paid on the 1st day of every month via PayPal at Wealthy Affiliate. You are required to set a minimum payment threshold in your account page. Payment will only be sent when the threshold has been reached.

Affiliate program reputation
With thousands of affiliate programs in the market and potential of marking money, hardly can you miss scams. Its important to conduct thorough background research on the program you wish to join and read reviews that are often readily available online. As rule of thumb, avoid programs with the following characteristics;
1. Get-quick-rich schemes: In reality, a lot of hard work and plenty of effort is required to make an affiliate successful. Avoid programs that promise too-good-to-be true returns and unrealistic deals that are not comensurated with reasonable effort on your part.
2. Pay to join programs: Most reputable affiliate programs are completely free to join as you are joining to work for the company.  However, a number will require that you fulfill a certain requirement such as having a certain traffic, which is acceptable. Practice caution if upfront payment is a requirement to join.
3. Fake products and services: Often scammers will create fake products or services, and promote them under the name of  reputable companies.
Join a reputable affiliate program such as Wealthy Affiliate
Affiliate program tools and resources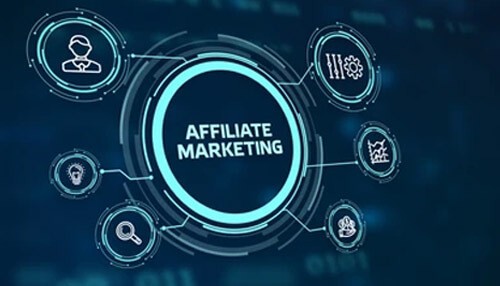 Affiliates on their own may not have enough muscles (financial, capacity) to set up and drive, say, a successful promotional campaign. Credible affiliate programs understand this handicap and therefore avail tools and resources for their affiliate to succeed even better. Such tools include software, information such as demographic data, digital marketing tools such as keyword research tools, learning resources, SEO plugins, social media engagement tools which assists affiliates to get more traffic, enhance conversions and make money.
Wealthy Affiliate offers the following tools and resources for their affiliates;
Domain registration and hosting
Website builder – A platform to build as many website as you need. For Beginners you can build and host as many as 10 websites for free
Premium SEO All-in-One plugin – WordPress Hosting
Comprehensive Learning Resources
Site Management Tools
Site Feedback Management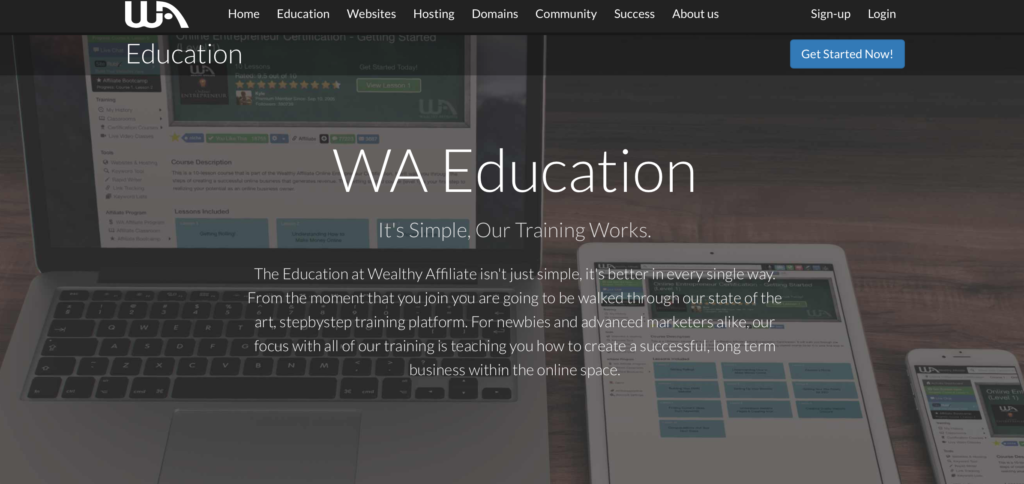 The Education at Wealthy Affiliate isn't just simple, it's better in every single way. From the moment that you join you are going to be walked through our state of the art, step-by-step training platform. For newbies and advanced marketers alike, our focus with all of our training is teaching you how to create a successful, long term business within the online space. – Wealthy Affiliate
Competition & Quality
As it's said,  A little competition is a good thing and severe competition is a blessing.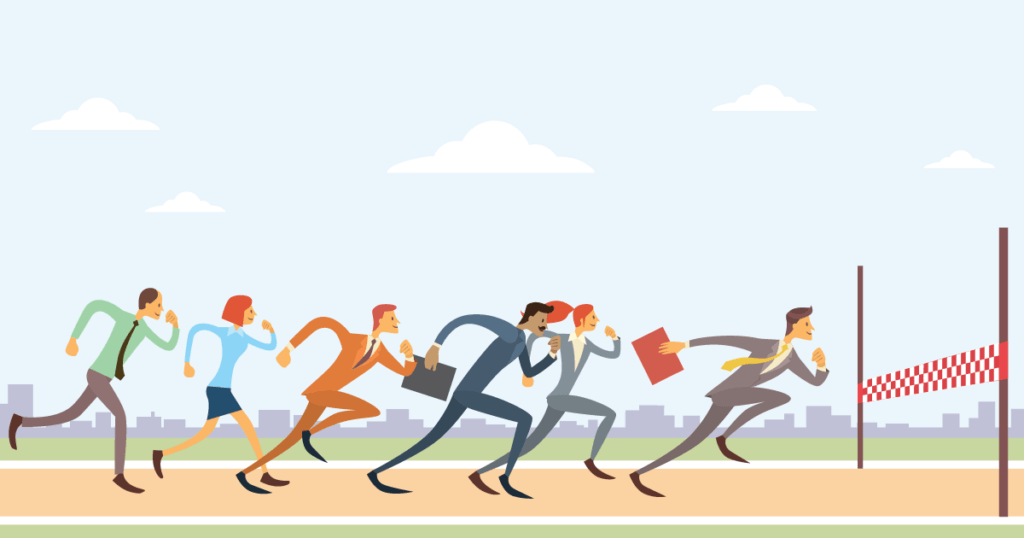 We often make the mistake of going where there's minimum competition. When looking for an affiliate program, you are better served by the one that also serves your closest competitors. Where you find more competitors, you are more likely to find the most relevant tools and resources.
It is common for many Affiliate programs to blow own trumpets regarding the number of  websites they host. It's important not to use this information at face value. Analyze the calibre of those websites as well as independent reviews.
With over 3000+ free website templates, you can experience this world of Wealthy Affiliate in just a minute. Yes 1minute to built a website.
Build a Free Website in 3 simple steps: Get Started Below!
Jeff
Safari Affiliate